Let viewers decide who is a better Bhishma: Ronit Roy
Ronit Roy can rightly be called the superstar of Indian television. The actor, who started his career with a little-known film Jaan Tere Naam, has achieved iconic status in the television industry today. Be it Rishab Bajaj in Kasauti Zindagi Kay or Mihir Virani in Kyun Ki Saas Bhi Kabhi Bahu Thi, he has been a hit. Srabanti Chakrabarti talks to Ronit Roy, who plays the role of Bhishma in Ekta Kapoor's Kahani Hamarey Mahabharat Ki
Will you be able to repeat the success of Mihir Virani or Rishab Bajaj in Kahani Hamarey Mahabharat Ki?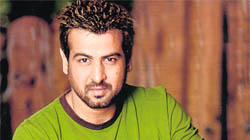 Ronit Roy has thrown the gauntlet at Mukesh Khanna, who played Bhishma in B.R. Chopra's Mahabharata
The character of Bhishma is one of the strongest characters of the epic. When Ekta started planning Mahabharat, I knew the only role I wanted in it would be of Bhishma. I am quite passionate about the character. I hope not only to repeat, but also go beyond the success of my earlier characters.
How did you prepare for this complex and difficult role?
This is a character with multiple shades. It has purity for Bhishma is Ganga's son, there is strength, too, for he is the son of Shantanu, a warrior, as well. (Smiles) I had to stop all my vices like smoking and alcohol and concentrate only on working. I also had to undergo physical training to tone up my body so as to look like a warrior's son.
How is Kahani Hamarey Mahabharat Ki different from the earlier Mahabharata?
The epic is the same only the perspectives are different. Ekta has told the story from her perspective as did B.R. Ishara. The basic intention is to bring Mahabharata to the new generation. The look of all characters in Kahani Hamarey Mahabharat Ki is quite contemporary. The biggest change is that no one is wearing crowns but is sporting a unique headgear instead.
Did you watch Mukesh Khanna's portrayal of Bhishma? He has said that his portrayal has been the best.
Mukesh is a senior actor. Since India is a democratic country everybody has the freedom of speech. All I would say is that I have worked very hard to make my portrayal as realistic as possible. Let the viewers decide.
You have an iconic status the Indian television industry. Would you like to return to films?
I will never go back to films just for the sake of it. But if there is a good role I may consider it. Frankly, I am quite happy with what I have achieved in the television industry. There were struggling days when I did not have any work, but I overcame those difficulties and established myself. Television has given me a lot.
How was your experience in recent two reality shows you participated?
Reality shows offer an easy and direct communication channel with viewers and fans, bit it also creates to a lot of negativity. Your friends and colleagues start giving bad vibes beyond a point and the atmosphere becomes a bit claustrophobic, which I am not very comfortable with. I don't think I will do any more reality shows as a participant. However, I am open to anchoring these shows.