They are back
Jasmine Singh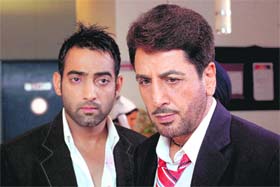 One is the invincible sartaaj of Punjabi music industry and the other is the doe-eyed guy of Hindi television. And now, you will see them create magic on the big screen. Gurdas Maan and Manav Vij have come together once again after the success of Des Hoya Pardesh. This time for a film called Mini Punjab, which is being directed by choreographer-turned-director duo Rimpy-Prince.
Sounds like an interesting prospect. Especially, for the guy from Ferozepur, Manav, who has made it big with serials like Kyunki Saas Bhi Kabhi BahuThi. Known to be a lucky mascot for Maan, he is more than excited to be sharing screen space with the man he considers his mentor.


Maan files
Gurdas Maan has produced over 27 albums and has written over 200 songs. He also wrote and directed TV programmes like POP Time for Doordarshan, Delhi. When Gurdas Maan started his career as a performer, there was no market for solo singers, as the market was dominated by the duets. He declined many offers to performin a duet as he was confident of becoming successful as a solo artist.
He starred in the hit filmShaheed Udham Singh, where his true personality was highlighted as a Sikh man with no prejudices based on religion, caste or creed. As a singer Gurdas Maan has worked with music directors like Laxmikant Pyarelal, Bappi Lahiri, Anu Malik, Nadeem Sharvan, Amar Haidipur, Charanjeet Ahuja, Jaswant Bhanyra to mention but a few.
Aside from singing in Punjabi, he is fluent in Hindi, Bengali, Tamil, Haryanvi and Rajasthani. As an actor he has performed in Punjabi, Hindi and Tamil movies.
"I always wanted to work with Gurdas Maan for the very fact that he is a powerhouse of energy and talent," says Manav. "Each day is a learning experience with him. So much so, I feel that he has changed my life completely. Even people have noticed a positive change in me."
Manav plays Jeet, a boxer in Mini Punjab, which also stars Gufi Paintal, Vivek Shauqk to name a few.
"The audience wanted to see us together on screen," offers Manav, who has done a cameo in Ekta Kapoor's Mahabharat. "The film has a strong storyline and I am sure it will be a big success."
Ask him about his relationship with his mentor and you get all his attention. "As I told you earlier, Gurdas Maan is a director's delight. You don't have to tell him how to do a scene. After every scene he would sit behind the camera and tell me how I had performed."
As for Gurdas Maan's work, it has always been par excellence. Whether, it is an album or a film like Waris Shah, the man with a soulful voice has treated every project like the first and excelled. With Mini Punjab, he plans to do the same. Gurdas Maan plays Prem Singh in the movie, a kind of messiah who walks into people's life to make it better.
Says Manjeet Maan, Gurdas Maan's wife and producer of most Gurdas Maan films, "Every director has a vision and the actor has to work accordingly. I don't know about this project as it is completely new. It is impossible to create the magic of Des Hoya…, but who knows what's in store!"
And we can feel the absence of Manoj Punj. She feels that too, "Working as a team with Manoj was a totally different experience. He would treat his subject with finesse and delicacy and the results are there for you to see." Indeed.
But such is life, it has to roll on. And so does work. Sai Productions will always miss Punj, the man who created magic on screen. But at the same time, as they say, the show must go on.
And it does for Manjeet Maan who dons the director's cap for the first time with Sukhmani – Hope for Life with Maan in the lead. "We had discussed this project even before Waris Shah. The cast and crew will be the same save for Manoj and Sooraj ji," she adds with a heavy heart. As for Maan, he is doing another flick with Simarjeet (Manoj Punj's assistant) Pinda Vicho Pind Sunida.
jasmine@tribunemail.com