Human Mandi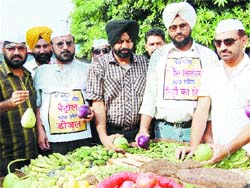 Members of the Idiot Club protest against horse-trading in politics. — Photo by Vishal Kumar
Neck-and-neck fight for MC chief post
Tarn Taran, July 22
The stage is set for the elections of the president, and other office-bearers for the local 20-member municipal council, which are going to be held here on Wednesday.
City lad in Voice of India contest
Amritsar, July 22
Vipul Mehta, a class XII (commerce) student of Senior Study II, Amritsar, has been selected for the second stage of the Amul Star Voice of India contest being telecast on Star Plus.
Cleft lip: 'Smile Train' flagged off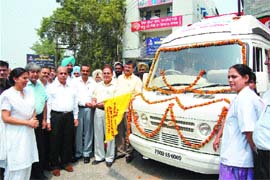 Amritsar, July 22
"Let's make Punjab cleft lip and palate-free society by identifying and treating small children born with these physical disorders," said Dr Ashish Sabharwal, director, Smile, Chandigarh, during a function held at Amandeep Hospital in the city.
The "Smile Train" being flagged off by Kunwar Vijay Pratap Singh, SSP, in Amritsar. — Photo by Vishal Kumar
Varsity gets new deans
Amritsar, July 22
Vice-chancellor Guru Nanak Dev University Dr Jai Rup Singh has appointed new deans of various faculties for a term of two years.
Culture promotion
Amritsar, July 22
To promote Punjab's rich culture, Gatka weapons were distributed among the students of Shaheed-E-Azam Bhagat Singh Gatka Academy at senior secondary school, Narli (Tarantaran).
Shiv Sainiks protest honouring of 'Army deserters'
Amritsar, July 19
Shiv Sainiks today protested against the holding of a function in Bhai Gurdas Hall by the Damdami Taksal for honouring the Army men who had deserted the Army during Operation Blue Star.
NGO raises concern on eco-degradation
Amritsar, July 22
An NGO, Mission Aagaaz -- Earth & Resources Care Group, held an environment awareness programme in various schools situated in border areas. The activists of the NGO told students about various environmental issues, including water conservation, rain water harvesting, climate change, global warming, ozone layer depletion and importance of trees and green belt. NGO director Deepak Babbar said the saplings of sukhchain, amaltaas, kaner, chandni, hibiscus and chakrasia trees were planted in each school by the students and the volunteers. — OC