Black Blow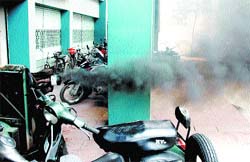 With power playing truant everyday, the residents have to depend on generators which are wreaking havoc on environment. —Tribune photo by Pawan Sharma
Teacher's slap lands boy in hospital
Phagwara, July 22
A teacher of a private school located at Hadiabad here allegedly slapped a class VII student on Monday. The student, Simrandeep, said he was talking to another student in the class when mathematics teacher Sanjiv Sharma entered the classroom.
Pb bodybuilders shine in Hong Kong
Jalandhar, July 22
At the recently concluded Asian bodybuilding and fitness championship held in Hong Kong by the Hong Kong China Bodybuilding and Fitness Association from July 16 to 21, two youths from Punjab, Ravi Kumar and Daljit Singh, have won gold and bronze medals, respectively.
Apeejay students all set for NASA's final competition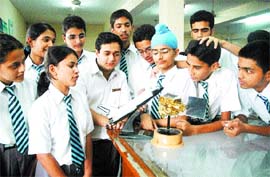 Jalandhar, July 22
The 12-member team from Apeejay School is all set to take off for the final round of the International Space Settlement Design Competition to be held at NASA's Johnsons Space Centre, Houston, Texas, from July 26 to 29.


The team members from Apeejay School in an upbeat mood. — A Tribune photograph
Fire scene: Gurdas Maan does it himself
Jalandhar July 22
Having impressed film-goers with his daring action sequences in super-hit films like "Dhoom-2", "Krish", "Om Shanti Om" and "Black Friday", action director Sham Kaushal is all set to mesmerise the Punjabi audience as he has been roped in by the Speed OXL as the director of their Punjabi feature-film, "Mini Punjab".
ISO Certification
Audit 2008: RCF earns recommendation again
Kapurthala, July 22
The Rail Coach Factory (RCF) here has been recommended for continuation of ISO 14001 certification. A team of auditors comprising K. Doraiswamy, Ashish Kumar, Dr M.S. Rao, S.K. Maira and Umendra Kumar of Indian Register Quality Systems (IRQS) did an extensive audit from July 15 to 19 before giving its recommendations for continuation of ISO 14001 certification, RCF sources said.
Power Cuts
Paddy adds to industry's woes
Jalandhar, July 22
While a hike in the prices of steel and furnace oil have already been a great shock for the industry, the power cuts for six to seven hours daily have added to the woes of industrialists.
Young World
DAV students bag Cloudsat project
Jalandhar, July 22
The authorities of Police DAV Public School are on cloud nine as the institution ranks among the six schools from India who have been given the Cloudsat education network, a project by NASA under which the students will observe clouds from the ground.
Stove burst leaves two injured
Phagwara, July 22
Satinder Singh and his mother Jagdev Kaur sustained burn injuries as a stove burst when they were preparing tea at their house in Pallahi village here.