Interpreting violence Violence — Impact and Intervention
Satinder K. Girgla
Ed Manjit Singh and D.P. Singh. Atlantic Publishers. Pages XXV+253. Price 695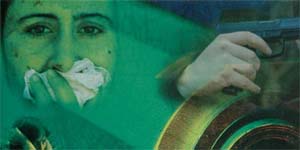 Violence is a universal phenomenon. It is everywhere — on streets, in homes, schools and even at workplaces. There is no community or country that does not face violence in one form or the other. Occurring in all kinds of settings—urban or rural, modern or traditional, rich or poor, it takes various forms. However violence is avoidable. However, we should not look at the police, judiciary or administrative system for a solution. It is a global scourge requiring collective effort from one and all.
This volume, divided into four parts, is a compilation of articles on diverse aspects of violence ranging from state and ethnic violence to violence against women, children, elderly and Dalits. The book also discusses some ways and means to rein in this menace, which is a major cause of suffering for humanity.
In the 21st century, terrorism has become a global concern and one way to tackle this problem is waging war against terror. The US chose this way to crush terror nurseries in Afghanistan and Iraq. But can one form of violence wipe out the other? The answer is 'No'. One of the essays in the book examines various aspects of this war against terror and concludes that war only adds to the problems as it legitimises and strengthens terror groups. To confront terrorism, it is important to encounter its causes and not just the situations or individuals, it adds.
While elaborating upon generalist perspective of violence, R.N. Singh and Amir Abbassi talk about suicide terrorism and go on to suggest some preventive strategies and point out difficulties that lie in the way of implementing them. Ravinder Rena talks about internal conflicts at length and says that such conflicts in a country can spur regional movements leading to destabilisation of neighbouring states.
The second part of the book highlights various factors responsible for ethnic violence and clears the air on the relationship between religion and violence. Do the roots of terrorism lie in the religion or a political ideology that uses religious language? While answering this, Mohammad Farajiha attempts to answer the accusations and doubts expressed against Muslims.
This section also discusses Islamic revolution in Iran and the role of religious and political leaders in ethnical violence. It also elaborates on how the use of force by the government radicalised the Islamic revolution and how the revolution that first was a peaceful social movement for a better life led to the collapse of the tyrannical government of a secular Shah and later escalated into a perpetual hostility against Israel and other major powers, including the US.
The genesis of the ethnic conflict and insurgency in Nagaland, too, finds a place in this book and the authors try to suggest some solutions to end the struggle and restore peace in the area. A case study of Assam, highlighting the problem of migrants in the state, focuses on how in the absence of a spirit of tolerance on the part of locals, inter-state migration can disturb the economic and demographic balance.
The third part of the book is exclusively devoted to violence against women. While narrating the cause of domestic violence, Pande et al opine that men's image of women as incapable and women's image of themselves as sacrificing seem to produce a conducive atmosphere to breed violence and blame social construction of masculinity for domestic violence. Enhancing competencies, resources and coping skills of the women folk can go a long way in preventing the incidents of violence.
The last part of the book examines the violent experiences of children, elderly and Dalits. One chapter exclusively narrates the experiences of children in Kashmir and examines the way kids explained and coped with the violent incidents like grenade explosion. Another case study aptly highlights the plight of Dalits in India and presents an in-depth analysis of economic reforms in the country.
The book would serve as a reference for the researchers, planners and policy makers, administrators and all those who are directly or indirectly related with the maintenance of security and safety of life and property. Save a few inconsistencies (year of creation of Nagaland and Meghalaya in two subsequent chapters), the book would surely help readers in acquainting them with some important theoretical and operational issues concerning violence in today's world.