Knowing Lata
A new book reveals little-known facts about the singing legend
Sreya Basu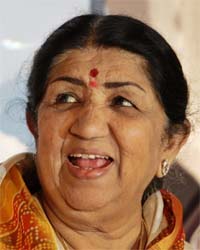 HOW many of us know that Lata Mangeshkar's real name was Hema? A new book on her is not only a compendium of all her songs but also chronicles some unknown facts about the singing legend.
Snehasis Chatterjee, a musicologist and a big fan of Lata, has released a book on the Indian 'nightingale' titled Lata Geetikosh. He claims that his book provides authentic information about her life and career.
For instance, when she was born her parents, Dinanath and Shevanti Mangeshkar, named her Hema and she lent her voice for the first time for a Marathi movie Kiti Hasaal in 1942, but the song was not released. It was her song "Nathli chaitrachi navlai" in Marathi film Pahili Mangalagaur (1942) that was the first to see the light of day.
She even acted in 10 films, including Pahili Mangalagaur, Badi Maa (1945), Jeevan Yatra (1946), Mandir (1948), along with cameos in Chhatrapati Shivaji and Pukar (2000).
That's not all. The book also reveals that Lata used to compose songs under the pen name of Anandaghan. She also composed the music for two Bengali songs — "Tare ami chokhe dekhini" and "Ami nei", which were sung by the versatile Kishore Kumar.
She also composed tracks for five Marathi movies including Ramram Pahune.
There is more information in the book — Lata also produced the Marathi movie Vadaal (1953) and Hindi films Jhaanjhar (1953), Kanchan (1955) and Lekin (1990).
She was also the producer of the Hindi TV serial Kuchh Paya Kuchh Khoya (1989).
When asked what had prompted him to write the book, Chatterjee told IANS: "It is very disappointing that till date there are no authentic compilations of Lataji's songs.
"The paperbacks available at roadside bookstalls are all full of errors. Even the media feeds the public wrong information about the total number of songs she has sung so far," he added.
"I have always been a diehard Lata fan. But I hit upon the idea of bringing out an authentic compendium of her songs back in 1990 when I started collecting recordings of her songs," Chatterjee said.
In 2001, Chatterjee even figured in the Limca Book of Records for this effort.
"Lataji has so far rendered 7,000 songs in various languages, including both film and non-film songs. I have all her songs in the form of gramophone records, cassettes, audio and video CDs. "No one can challenge me with a song that is not included in my collection.
Even Lataji has acknowledged my work and sent me her best wishes", Chatterjee maintained. — IANS