City bus service by mid-August: Kalia
Phagwara , July 31
The Punjab government would launch a pilot project of city bus service from Jalandhar by mid-August under sustainable public-private partnership (PPP), local government minister Manoranjan Kalia said here today.
Pensioners seek more facilities
Jalandhar, July 31
The All-India Central Pensioners Association has written to Prime Minister Manmohan Singh to redress their long-pending demands before finalising the recommendations of the Sixth Central Pay Commission.
9,000 cases to be settled in lok adalat
Jalandhar, July 31
More than 9,000 cases would be settled in the Lok Adalat to be held in the court complex on August 30.
Army officer, two others hurt in road mishap
Phagwara, July 31
Three persons, including an Army officer, sustained critical injuries when a Jalandhar-bound Army Canter collided with a truck near Chuck Hakim village between Phagwara and Chaheru on the national highway, the police said today.
Cyclist hit by car, dies in hospital
Kapurthala, July 31
A 45-year-old person was injured when he was hit by a car on the Talwandi Road in Sultanpur Lodhi sub-division of Kapurthala on Thursday. The injured identified as Jagdeep Kumar was riding a cycle when he was hit by the car. Jagdeep Kumar was rushed to the local civil hospital from where he was later referred to a hospital in Jalandhar.
Three factory workers looted
Phagwara, July 31
Three scooterists with muffled faces allegedly looted cash and a mobile phone from three factory workers near here last night, the police said today. Raja Ram, Munna and Upinder were coming on their motorcycle from a factory at Wajidowal village to Chachoki village.
Young World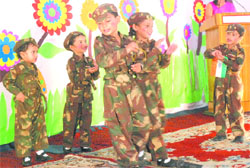 Meritorious students honoured
Jalandhar, July 31
Delhi Public School honoured its meritorious students of classes X and XII who brought laurels to the institution by scoring good marks. Class X had 100 per cent results with 75 per cent students passing out with distinction. Class XII students too brought excellent results.
Tiny tots present a dance during the inauguration of Shaurya Army Pre-School in Jalandhar cantonment. — A Tribune photograph