Safety Measures
SSP directs cyber cafe owners to install CCTV cameras
Amritsar, August 1
In the wake of misuse of cyber cafés by terrorist organisations for anti-national activities, the district police held a meeting with owners of city cafés here on Thursday. The meeting was attended by 75 café owners from all over the city.


Solar Eclipse
Devotees take holy dip in Durgiana sarovar
Amritsar, August 1
A large number of city residents thronged the Durgiana Temple and took a dip in the holy sarovar on account of solar eclipse here today. The management of the Durgiana Temple had made elaborate arrangements for the devotees for hassel-free bathing in the sarovar.



Devotees take a holy dip in the sarovar of the Durgiana Temple in Amritsar during the solar eclipse on Friday. — Photo by Vishal Kumar
MC health officer in dock
Amritsar, August 1
Health officer Dr Charanjit Singh posted with the corporation authorities here on deputation from the state health department has been under attack from various councillors and some of the employee unions.
'Africa - land of opportunity'
Amritsar, August 1
Various countries in Africa could prove to be a land of opportunities for the Punjabi farming community as the nations were looking for enterprising farmers who could help them to cultivate. It would not only benefit them but even the locals as they would get to learn more.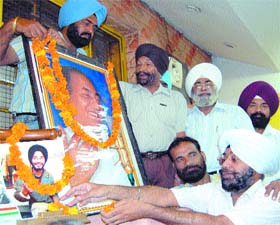 Members of the Mohammad Rafi Memorial Society pay floral tributes to Ishmeet Singh and Mohammad Rafi in Amritsar. — Photo by Vishal Kumar
Workshop to promote Punjabi folk, theatre
Amritsar, August 1
In order to promote the Punjabi folk and theatre and to improve the acting skills of the budding artistes, a 40-day musical theatre workshop was organised by Dastak which concluded here recently.
DAV to give new platform to 'Koshish'
Amritsar, August 1
The DAV Management Committee has inked a memorandum of understanding (MoU) with the Indian Red Cross Society according to which it would run society's special school, "Koshish".
'Avoid plagiarism to promote quality of research'
Amritsar, August 1
Plagiarism should be avoided in order to promote the quality of research, said Dr S.S. Chahal, director of research, Guru Nanak Dev University, while delivering his presidential remarks at the one-day presentation on "ProQuest Digital Dissertations and Theses (PQDT)" in the university here today.
Pak expert gives tips on graphic design
Amritsar, August 1
To familiarise students with the new upcoming subject of graphic design, an interactive session was held in Spring Dale Senior School where eminent fashion photographer and graphic designer Rizwan Baig from Pakistan gave the tips to students on photography and graphic design.
School Pulse
Spring Dale students to attend space programme at NASA
Amritsar, August 1
About 23 students of Spring Dale Senior School along with two teachers would be leaving for the Johnnson Space Centre at NASA on August 2 to attend a space school programme.
Campus Buzz
Ex-DU teacher to address valedictory function
Amritsar, August 1
P.B. Mangla, former professor from the department of library and information science of Delhi University, would address the valedictory function of the three-week refresher course on August 7.
DPRO retires
Amritsar, August 1
After putting in 35 years of service, district public relations officer Gian Singh retired here on Thursday. The department organised a farewell party in his honour.
Woman commits suicide
Amritsar, August 1
Upset over the alleged illicit relations of her husband with his maternal aunt, Paramjit Kaur, a resident of Chak Dogra, committed suicide last evening.
Addl sessions judge joins office
Tarn Taran, August 1
One more court of the additional and district sessions judge started functioning here today with Sukhdev Singh having joined the office.
Eye check-up camp today
Amritsar, August 1
The Youth Welfare Federation of India would organise a two-day free eye check-up camp at Gumber Eye Hospital in the Putlighar area on August 2.