THIS ABOVE ALL
Popular poet of his time
KHUSHWANT SINGH

Sad news from Pakistan. Ahmed Faraz is dying or dead. He was, or is, the leading Urdu poet of his time and drew large crowds of poetry lovers in Pakistan and India in mushairas. I had the privilege of spending many evenings with him when I was in Islamabad the last time. When in Delhi, which was often, he made a point to come to my home and join me for drinks.
Faraz was a tall, well-built, handsome, Pushto-speaking Pathan. He was born in Nowshera in 1931 and studied Persian and Urdu in Peshawar University. He took to composing Urdu poetry early in life. His role-model was the revolutionary poet Faiz Ahmed Faiz. Like Faiz, he fell foul with the authorities and was put in jail. Like Faiz he had to flee his country for some years and lived in Europe and Canada. And like Faiz and many other Urdu poets from Ghalib down to Majaz, he became a hard drinker.
I recall while in Islamabad, our High Commissioner Lamba took care that I was never short of Scotch and had a bottle or two sent to my room in the hotel every day. Faraz joined me in the evenings. I am a moderate drinker. Faraz kept company with me. He had a curious habit of dunking his cigarettes in whisky before lighting them. Like Faiz he was also a chain smoker.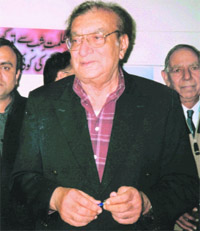 Ahmed Faraz has left a sizeable corpus of poetry, prose and drama now available in four volumes.

Invariably after sessions were over, he took the bottle still three-quarters full to finish at home. The pattern was somewhat the same when he visited me in Delhi. He was welcomed in many Indian houses and won a great many hearts. On earlier visits he stayed with Zainab Chauhan. Later, because of his many admirers dropping in to see him at odd hours, he stayed at the India International Centre. Amongst his devotees was the late Pushpa Dogra, who danced to his compositions, Ritu Singh of Air India, whom he described as Kohinoor, and Sadia Dehlavi, who had to foot his bill of the centre.
He was the star performer at Kamna Prasad's annual Indo-Pak mushairas. His visits became less frequent when he sensed the growing intolerance of religious fanaticism in India. He never minced his words in criticising governments or societies—Indian or Pakistani.
At home in Pakistan, one dictator followed another. General Zia-ul-Haq had put Faraz behind bars. It did not silence Faraz. General Parvez Musharraf thought it wiser to flatter him with a title and perks. In 2004 he was conferred with the title of Hilal-e-Imtiaz. He was later made chairman of the Pakistan Book Foundation with a bungalow, office and car thrown in. For a while Faraz was mellowed.
When his term finished he refused to vacate his office or bungalow. He was ordered to do so. He returned the honour conferred on him and censured the government's authoritarian ways. He was at his best as a warrior fighting against odds. Although he said he only wrote when inspired, Faraz left a sizeable corpus of poetry, prose and drama now available in four volumes.
In India and Pakistan his fame rests on the soulful rendering of his poems by Mehdi Hassan. Perhaps the most popular of all is his Ranjish hee sahee, dil hee duknaaney kay liye aa.
Another equally popular verse is: Ab key ham bichchrey to shayad kabhee khwaabon mein milein, Jis tarah sookhey phool kitaaboon mein milein.
Prayer for victory
Prime Minister Manmohan Singh ended his speech in favour of the confidence motion for his government with the stirring lines of Guru Gobind Singh: Dey Shiva bar mohe hai, shubh karman tay kabhen na taron (Lord Shiva, grant me the boon that I never hesitate to perform righteous deeds).
For the benefit of readers not familiar with the original, which is found in the Guru's Chandi Charitr (ode to goddess Chandi) of his Dasam Granth, I give my translation in English:
O Lord, these boons of thee I ask;
Let me never shun a righteous task;
Let me be fearless when I go to battle;
Give me faith that victory will be mine;
Give me the power to sing Thy praise;
And when comes time to end my life;
Let me fall in mighty strife.
Errant husbands
What should a woman do when she finds out that her husband is cheating on her? Most would say "kick him out, leave him, sue him for adultery and demand a huge alimony." Not so, writes Sonam Kalra. In her lavishly illustrated book How to make your husband's mistress cry—the new rules of revenge, she lays out a set of commandments in Biblical language how to ruin the illicit liaison by resorting to mischief and enticing the husband back to live in matrimonial fidelity.
Suggestions include ringing up the fire brigade or the ambulance from a public telephone booth, asking them to come immediately to the place where her husband and mistress are up to no good. That will put a damper on their illicit passion and the husband will come home.
Sonam has a wicked sense of humour. So has Prabhjyot, her illustrator, who portrays her scantly clad men and women in as compromising positions as censors of public morality will tolerate. In addition, the two ladies have produced The naughty girl's book of secrets—over 50 tips to make him pant for you. Both are amusing, readable and permissible light porn, which will keep the reader smiling all the way.