MUSIC ZONE
Saurabh & Gaurav
Paul Weller — 22 Dreams
(Universal)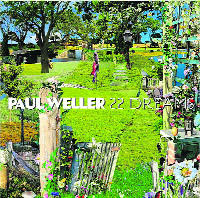 Thirty years into his career, Paul Weller has always flaunted exemplary style. In 22 Dreams, his ninth solo album, the stylishly coifed singer, songwriter and guitarist marks his 50th birthday with an ambitious, eclectic mix of 21 tracks, from the psychedelic Echoes Round the Sun to the classic piano-based soul of Invisible and minimalist electronica of 111. This is Weller at his experimental best. Each song shifts genres, snapping Weller's soulfully tuned voice from crooning to belting and back. What's impressive is the sheer breadth of musical vision in these tracks, from the nu-folk opener Light Nights to its obverse urban closer Night Lights, taking in all manner of rock, soul and R&B variants, some quite unexpected and some even shocking. Apart from being the most eclectic and resourcefully imaginative solo album of Weller's career, 22 Dreams also turns out to be one of his most consistent efforts. The Light Nights starts off the album with violin, cello and Steve Cradock's 12-string guitar skirting along on a Mediterranean melody, followed directly by the horn-blaring stomp of the title track. Black River floats along with springtime glee, carelessly following a light lounge-piano and a relaxed strumming on sliding guitar, courtesy ex-Blur guitarist Graham Coxon. All I Want To Do (Is Be With You) is the record's most approachable, easy-going pop-rock tune. Noel Gallagher and Gem from Oasis lend their talents to Echoes Around the Sun, a writing collaboration between Weller and Gallagher. 22 Dreams has resulted as one of Weller's most spirited works so far and is sure to expand the artistic canon of the one and only 'Modfather'.
Best track: Echoes Around The Sun
Worst track: Push It Along
Rating: ***
John Mellencamp — Life Death Love and Freedom
(Hear Music)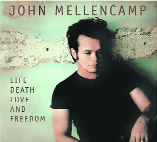 John Mellencamp delves into American folk, blues and country in his latest release, Life Death Love and Freedom. Of these four themes, death seems to be the most prominent on Mellencamp's mind. With song titles like Don't Need This Body and Longest Days, it's obvious that he's feeling the effects of age and pondering that disturbing, inevitable fate. "All my friends are sick or dyin'/And I'm here all by myself" he seethes on If I Die Sudden, while the lumbering notes of an upright bass stalk his voice like mortality itself. Mellencamp, however, isn't just concerned with his own passing, he's also concerned with the passing of a nation he has so thoroughly chronicled the past three decades. Tracks like Without a Shot, Troubled Land, and Jena portray an America that has lost track of its ethical vision, where people are so consumed by creed and fear that they've secluded themselves. Mellencamp has adopted the persona of an old blues man here and rather than sounding pessimistic, he sounds frighteningly realistic. The mood picks up on the rocker My Sweet Love, an ode to romance with a 1950s feel and rolling drums. Troubled Land harkens back to Crumblin' Down musically with its swampy groove and sings of bringing peace while warning of the hurricane on the horizon. On A Ride Back Home, he pleads with Jesus to take him home, saying that his time has come and is wishing for the end. Life, Death, Love & Freedom is an excellent, thoughtful album featuring beautiful, insightful lyrics that look at life, the past and at time passing away.
Best track: My Sweet Love
Worst track: For The Children
Rating: **
Randy Travis — Around
The Bend
(Warner)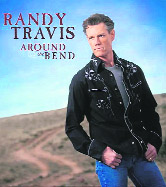 After setting new standards for country music, Randy Travis made a quiet transition to gospel a decade back, and crafted some of his most personable, appealing records. With Around the Bend, he returns to his roots with songs that are comfortably quaint and rich with homespun charm. Though his method is different from what passes for commercial country today. He applies his flexible baritone to the breezy hook of Love Is a Gamble and latches on to the simple ballad Dig Two Graves. He performs convincingly on the contemplative You Didn't Have a Good Time, while on the cover Don't Think Twice, It's All Right, he's more playful and friendly than Bob Dylan likely ever imagined. In truth, he hasn't completely abandoned spiritual themes; Faith In You, Love Is A Gamble and From Your Knees feature Christian messages. Even the playful Every Head Bowed spends a good amount of time in church, albeit from the point of view of a young boy who's grumbling stomach has him praying for preacher to adjourn so the family can head out to eat. The album's most unforgettable tune, You Didn't Have A Good Time, dresses down a man who has lost everything except the empty bottles piled around his home. Around the Bend illustrates on such standout cuts as Dig Two Graves and Everything That I Own (Has A Dent), how modern production trends can combine with traditional country styles in ways that can keep genre conventions relevant and contemporary. Listening to anything melodic that comes out of this man's mouth is akin to wearing your favourite pair of jeans. Everything fits so comfortably.
Best track: Love Is A Gamble Worst track: Turn It Around
Rating: **
Album of the month
Coldplay — Viva La Vida or Death and All His Friends (Capitol)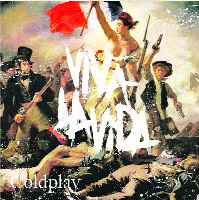 Coldplay's highly-anticipated fourth studio album, Viva La Vida or Death and All His Friends, displays evolution and new confidence without straying too distant from the band's trademark sounds: rousing anthems, emotional ballads and contemplative vocals. Recruiting acclaimed producers, including Brian Eno (U2, Talking Heads) and Markus Dravs (Bj`F6rk, Arcade Fire) for creative guidance, Coldplay veer from their mass appeal musical formula and toy with more experimental songs. As the title suggests, Viva La Vida is a positively celebratory collection of songs seeping-in melodies, hooks, and emotion that show Coldplay stripping themselves of the self-imposed chains that held back X&Y and letting it fly. There's something blissfully carefree in this record's 10 tracks, evident in the shuffle beat of Lost, Cemeteries of London or the Indie folk pop Strawberry Swing. The self-described "very heavy soft rock band" delivers Viva La Vida as a full on rock album, and its drive propels the album past most typical Coldplay issues. Ballads are conspicuously absent here, thus the quartet avoids the snag that dragged down their previous efforts. Violet Hill, in particular, struts confidently, decked out with a stomping beat and Martin disposing of his usual niceties to deliver the single's hook "If you loved me, why'd you let me go?" The opening instrumental, Life In Technicolour is brilliant starting point, a mix of Eno's electronics and Buckland's guitars that collide in breathtaking fashion. Yes has a Middle Eastern flavour to it, with Martin singing an octave or three dozen below his normal range, while Lovers In Japan is a quintessential Coldplay love song full of flowing, piano-led melodies and Martin's warm, reassuring vocals. The track Viva La Vida showcases perhaps Martin's best lyrical work on the album. The track, at once layered and pulsing with strings, combines urgency with built-for-sing-along refrains including: "For some reason I can't explain/ I know St Peter won't call my name/ Never an honest word/ But that was when I ruled the world." Death And All His Friends draws the album to a pensive close, slow-building its way to another majestic finale, before a reprise of Life In Technicolour holds us mesmerised once more and leaves us yearning for more. The album is executed on a grand scale, the layers of instrumentation suggesting an enormous, jubilant ensemble, and the result is easily Coldplay's best album to date, a record filled with exuberance, charm, and the heart they've been feigning for years. While Coldplay paints a darker picture lyrically, musically the album is filled with fun syncopation, an assortment of tones and instruments, and is a very pleasing listen.
Best track: Violet Hill
Worst track: Death and All His Friends