Sponsors chip in
M.S. Unnikrishnan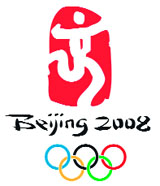 Olympic sports disciplines in India rarely attract big-time sponsorship deals, but the Indian Olympic Association (IOA) is not complaining, and funds are the least of the worries of the Indian contingent as they embark on yet another Olympic odyssey in pursuit of medals at the Beijing Games.
Korean electronics giant Samsung is the official sponsor of the Indian contingent, with various minor sponsors as add-ons. But IOA secretary-general Raja Randhir Singh, who is also a member of the International Olympic Committee (IOC), said the 57-member contingent of sportspersons, along with coaches and officials would get free board and lodging at Beijing, courtesy IOC.
But the bulk of the money for all the myriad expenses of the Indian contingent would be borne by the Union Ministry for Youth Affairs and Sports, though the amount would be reimbursed only after the IOA foots the bill, on return of the contingent.
Randhir Singh said sponsors, per se, were not a problem with the Indian contingent, now that India stood a bright chance to strike medals in shooting, archery and boxing. He said the shooters, archers and boxers had been scoring some big wins of late, to make their cases strong.
Some shooters, athletes, boxers and tennis players have managed individual sponsors like the Mithal Champions Trust and JCT, and various other companies, due to their standing. Shiv Naresh, the biggest sports apparel manufacturing company in the country, would be providing kit bags to all the members of the Indian contingent.
"We will be providing international quality kits to the Indian Olympic contingent", stated managing director of the company Shiv Prakash. Shiv Naresh has also been sponsoring many sportspersons and teams, individually and collectively, and its help and support has been a great boost for needy sportspersons.
The Indian Amateur Boxing Federation (IABF) has been getting help and support from Universal, specialising in boxing equipment, and the boxers have been mostly using Universial gear in the coaching camps, which are at par with the best in the world.
Tennis players like Sania Mirza, Leander Paes and Mahesh Bhupathi have some well-known brands backing them, while long-jumper Anju Bobby George has been getting financial support from the Bangalore-based construction company Sobha infrastructure, till she realises her dream of winning an Olympic medal. The Mithal Trust has been taking care of the boxers while JCT has been backing some of the shooters.
Overall, even without sponsorship, India's Olympic hopefuls are not short of funds. The Sports Ministry, the Sports Authority of India, the IOA and the IOC have all pitched in to ensure that fund crunch would not hamper India's chase for an Olympic medal/medals.