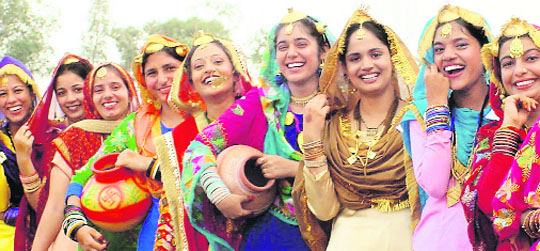 Monsoon, Mehndi & Mahl Puas: Teej on Aug 4 promises to be a swinging affair!

Sawan ke jhooley
Teej is a small red insect that comes out of the soil during rains!
Jigyasa Kapoor Chimra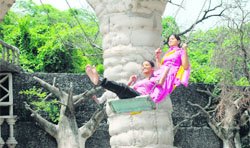 IT'S a festival that has dazzled through the ages. Teej rejuvenates senses, as it brings with it a fresh lease of life in form of tiny droplets of rain. An age-old festival that spans across generations, Teej is celebrated throughout North India and Nepal. This colourful festival sees women observing fast for their husband's long life, marital bliss and children.
— Photos by Manoj Mahajan, Pradeep Tiwari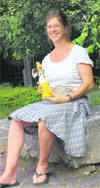 The Third Link
City has two solid connections with Swiss city, Lausanne: Corbusier & Rock Garden. Claire de Buren completes the triangle
Parbina Rashid
WHEN Claire de Buren flew from Geneva to Kerala, her aim was to enjoy a holiday with her relatives there. But curiosity got the better of her and she cut short her family time to be in Chandigarh. Firstly, having seen Nek Chand's miniature rock garden Muse de l'art Brut in her hometown, Lausanne, she wanted to see the original. Second, an admirer of Le Corbusier, also from Lausanne, she wanted to understand what motivated the master architect to come here to build a city. — Photo by Pradeep Tiwari
Studies first


For Darsheel aka Ishan of TZP, acting is fun but academics are priority
Limelight-aspiring youngsters — be it Indian Idol star Abhijeet Sawant or Rahul Vaidya of Jo Jeeta Wohi Superstar — may have packed their books to chase what we call easy stardom but there is one star who is surely not playing the fame game. Taare Zameen Par star Darsheel Jaffery is clear in his head: Fame apart, studies are his first priority. Well, this sure comes as a pleasant surprise for us.

Telly Tales
Let mythology be!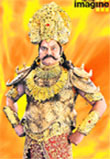 Sagas of flamboyance & distorted reality?
Epics are all about Manish Malhotra saris, garish make-up and weird camera angles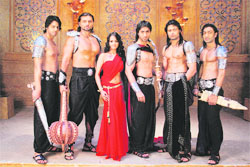 Jasmine Singh
I remember how my whole family would plonk themselves in front of the television set every Sunday at 9 a.m. sharp. Work would come to a standstill as the characters of Mahabharat came alive on screen. Ravishing Rupa Ganguly as Draupadi and her long tresses that started the whole musibat, the very Arjun-looking Arjun, trying to make up his mind whether to fight against his own kith and kin, and the most impressive, the throaty-voiced Bhisma Pitamah (Mukesh Kapoor), a real Krishna (Nitish Bhardwaj), villain Shakuni (Gufi Paintal), blind king Dhritrashtra (Girja Shankar). It was the real Mahabharat, B.R. Chopra's Mahabharat.
Frozen in time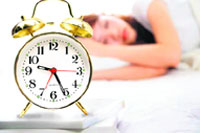 There may be a million ways of setting an alarm but the clock still has a loyal following
Jasmine Singh
A loud shrieking noise coupled with a little propeller-driven key that leaps off your nightstand, alarm clocks make sure you wake up on time. Take it from people who swear by it, still. And apart from your caring mother, who else has so far managed to wake you up on time, fixed by you. None else than your alarm clock.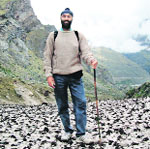 Do the dare
For city-based mountaineer Harmeet Singh, hiking is a way of life
HE wants to conquer all the dangerous peaks, and with God by his side Harmeet Singh vows to do it one day. "You can call it a passion or pagalpan. I like to trek unknown, untouched and dangerous routes. It gives me some kind of unexplained satisfaction," says forty-year-old Harmeet Singh Oberoi, who works with Tech Mahindra, Chandigarh.
Eclipse the evil
Darkness at noon and moonless at night, eclipse has always rapt the human mind. And it was August 1 that saw the rare combination of a solar eclipse and a new moon fall together. A day full of unusual blends, the date also spells an odd combination of number one and eight — the former representing the energy of the sun and the latter representing the saturn — the planet of cause and effect.
Light the candle


Here's your pick

Aries: Light pink
Taurus: Turquoise blue
Gemini: Golden
Cancer: Dark green
Leo: Lavender


Virgo: Rust or black
Libra: Silver
Scorpio: Dark red
Sagittarius: Light sea green
Capricorn: Orange
Aquarius: Indigo
Pisces: Aquamarine

Spice up
It's much more than black & white...
Shahnaz Husain
Whiteheads are different from blackheads, although they both contain hardened sebum (the skin's natural oil). The excess oil collects in the pores and hardens. In blackheads, the pore is open. The tip oxidises and turns black. In whiteheads, oil and dead cells collect in pockets just beneath the skin.

Kebabs calling
Neha Walia
CARE for some juicy and lip-smacking kebabs? Copper Chimney-26 starts its 15-day kebab festival. Here you can try a variety of Lucknawi kebabs, all exclusive and delectable. Aneet Bakshi, GM, Copper Chimney-26 says: "We have been organising this festival for four years now.
Will do


WILL Smith is all set to revive his hit character, Dr Robert Neville, in the prequel of I am Legend. Director Francis Lawrence said that he is planning the prequel to the movie. According to the grapevine, Will Smith will return to the silver screen with the prequel to the futuristic movie, which is supposed to complete the beginning of the first part. "Absolutely there will be a prequel, we're actually trying to crack that, trying to figure out some ideas," said Lawrence. The director also revealed that filming I am Legend was not a cakewalk, as large areas of New York had to be closed down for the shoot, creating chaos for commuters and city walkers. — ANI
Rock on!
Gizmo freaks, tech savvy: Gen X is all for sleek mobiles and smart recharge schemes. And catching the nerve of young bindaas campus goers, Airtel launched its latest- the Airtel Mobile Campus Card. Offering more-value-for-money card, this scheme has call rates at 25 paise a minute and local SMS at 10 paise per SMS. With two separate calling rates -one for the day (7 am-11 pm) and other for the night and weekends (Night: 11 pm-7 am; Weekends: Friday 11 pm to Monday 7 am) this makes it an interesting deal. The card also comes with 500 free local SMS and validity for 30 days. For Airtel Punjab customers, the Airtel M-card is priced at Rs 250 and has a talk time of Rs 75, valid for 90 days. — TNS