ART & LITERATURE

'ART & SOUL
ENTERTAINMENT

TELEVISION

GARDEN LIFE

NATURE

FOOD TALK

CONSUMER RIGHTS

FASHION

HOLLYWOOD HUES

BRIDGE

ULTA-PULTA
EARLIER FEATURE

TRAVEL

RELATIONSHIPS

DREAM THEME

TIME OFF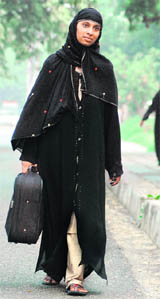 Working away from their country makes women domestic labour vulnerable to exploitation. With incidents of physical and mental abuse on the rise, the Government of India has acted to ensure fair wages and protection of their rights, reports Aditi Tandon
The lives of as many as two lakh Indian maids working abroad are set to change for the better. In September last, the Government of India acted to secure one of its most vulnerable workforces abroad. The government has laid down strict terms and conditions for employing female household workers (FHWs) and the Indian missions abroad will ensure compliance by overseas employers. Among these terms and conditions are the minimum wages, terms of contract and minimum age for emigration. Only recently, the Indian mission in Kuwait rescued a Maharashtrian girl, who had gone there as a housemaid and got enmeshed in the flesh trade.

Photos by Mukesh Aggarwal
ATHENS: Monumental attractions
Sujata Varadarajan
Athens, called the birthplace of democracy, is also the birthplace of many philosophers and writers, such as Socrates, Plato, Pericles and Sophocles. It was a major centre of arts, learning and philosophy during ancient times, most famous being the Plato's Academy. Aristotle, too, received his education at the academy.
A lesson from the British
When Victoria Cross winner Subedar Major Umrao Singh (retd) requested the then British prime minister John Major to enhance the pension of those honoured with the medal, it was immediately raised from `A3 100 to `A3 1,300. However, the Government of India has failed to provide a better package to the country's war heroes, says Lt-Gen Baljit Singh (retd)
Among my happiest memories of Army service is a 45- minute meeting with Subedar (Hony Captain-retd) Bana Singh in my office. The soldier narrated the story of the re-capture of a bunker from Pakistan army intruders on the Siachen glacier heights.
Aircraft once, junk now
Maharaja Harinder Singh Brar of Faridkot imported the Gemini M65 aircraft for his personal flights. Now the flying machine has turned into junk and lies in a hangar on the outskirts of the town, writes S. P. Sharma
It was a marvel when 60 years ago maharaja Harinder Singh Brar imported the Gemini M65 aircraft for his personal flights. But now the flying machine has turned into junk in a hangar on the outskirts of Faridkot.
A place in history
with or without trophies
The low profile that the latest Dadasaheb Phalke award winner, Tapan Sinha, kept even in his most successful years may have cost him a few trophies but, says Swapan Mullick, his work has the intelligence and power to confirm his place in history
That National Awards ceremony at Vigyan Bhavan in 1985 in many ways told the story of Tapan Sinha — the man and filmmaker. He was one of the award winners that year — something that he got accustomed to. The difference was that, unlike Satyajit Ray who had won frequent recognitions and was talked about, he was away from the media and from debating circles that mattered.
Osian's Cinefan revives festival fever
The annual 11-day Festival of Asian and Arab Cinema has recreated a site and season in New Delhi where films are finding a new audience and filmmakers file in to hear what viewers, peers and critics have to say. Shastri Ramachandaran reports on the 10th edition of Osian's Cinefan
With the International Film Festival of India (IFFI) being shifted from Delhi to Goa a few years back, the Capital, particularly its Siri Fort complex, was deprived of an event that was looked forward to every alternate year. Making Goa the permanent venue for IFFI left northern India without any seasonal hub for cinema.
Story of world's first TV drama
Andrew Johnson
Over 78 years ago, four men and a woman gathered in John Logie Baird's new studio in central London and carried out an experiment with the infant medium of television. They had no idea they were about to give birth to an art form that would dominate the world and lead to decades of hand-wringing over sex, violence and profanity: television drama.
Tech tools to fight fake art
With museums increasingly digitizing their art collections, it becomes pretty easy to forge paintings. Now, two researchers are working on a digital system to help detect original works from counterfeit ones. The findings of the study, which was led by James Z. Wang, associate professor of information sciences and technology, Jia Li, associate professor of statistics, were based on 101 high-resolution greyscale scans of Van Gogh paintings provided by the Van Gogh and Kroller-Muller Museums in the Netherlands.