Hello f.r.i.e.n.d.s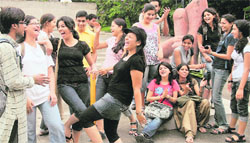 Neha Walia
"THEY say age should not matter unless you are a cheese." And youngsters today are sure following this advice, when it comes to friendship. As their mantra for dosti and yaari sets itself free from the marked territory of boy and girl notion and young and old fixation.



Jigyasa Kapoor Chimra
AS we spin the ball of life, friendship holds different meaning for different people. Where some believe it to be a way of life, others feel friends are the world and then there are some for whom friendship means loads of fun and dhamaal. Photos by Vinay Malik
first day first show
Rajiv Kaplish
Full of khot

Ugly Aur Pagli
Avoidable
No resurrection please!
The Mummy
Avoidable
Shall We Dance?
Tele reality shows have unleashed some kind of a dance fever in the city
Neha Walia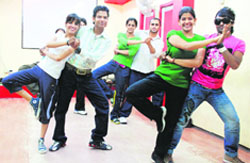 Awestruck by Madhuri's latkas and jhatkas? Now it's your turn to put on the dancing shoes. Having caught people's fancy, it's the new dance forms like jive, cha-cha and waltz that are taking city folks beyond the realm of party dancing. People are swinging to the tunes of cha cha cha, doing Jazz ballets, gyrating to the beats of salsa, roomba and samba, grooving on hip hop and Bollywood thumkas. The dance fever is on the rise and we are all ready to boogie.

Write to Renee
at lifestyletribune@gmail.com or Life Style, The Tribune, Sector 29-C, Chd
n I am 29, going through life with a chip on my shoulder. I view everything in life from a negative perspective. Whatever the situation, I am never happy. I am always looking at what could have been instead of what it is.
Aam delight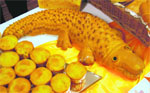 At Mango Mania, desi fruit comes in a videshi avtar
Jigyasa Kapoor Chimra
It's raining food fests. And this one's for people with a sweet tooth. Pleasing to the eyes they leave you asking for more. Nik Bakers, in association with CIHM and Chandigarh Tourism, organise for you a two-day mango festival at Hotel Chandigarh Beckons-42. Inaugurated by Jean Rodrigues (First Lady of Punjab) this fest brings an assortment of European mango delicacies.

Matka Chowk
Lauki -less in Chandigarh
Sreedhara Bhasin
Growing up in Kolkata, there are several things one takes for granted. For example, if you are out for morning walks and there is a nice, plum hibiscus reposing on a bush on the way – you pluck it, for flowers have no ownership.
Carnival with a cause
adding elegance and class to your lifestyle, comes the August carnival, at Hotel Shivalik View. Here you can pick from an elaborate collection of bridal wear, chic designer bags, home linen, Indo-western wear, export items, bed and cushion covers, Feng Shui items, precious and semi-precious jewellery, home accessories, furniture, paintings, steal accessories, fitness equipment, gift items and designer Rakhis. Organised in association with Akshay Pratishthan, an organisation working for children with special needs, this shopping bazaar is the placeto be if you are looking for hi end lifestyle products. —TNS
Sienna's love battle
ACTRESS Sienna Miller is facing the bitterest rival of her life — her lover Balthazar Getty's estranged wife. It is being said the 33-year-old father-of-four has been emailing his wife Rosetta, pleading for her forgiveness, leaving the Alfie actress devastated. It came to light that his wife is willing to give her actor husband a second chance. —ANI