Folk, Sufi melodies leave audience enthralled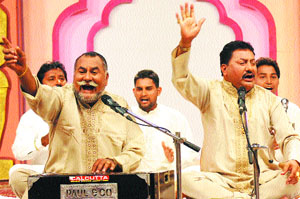 Jalandhar, August 7
The eighth anniversary celebrations of DD Punjabi proved to be a memorable event for the audience who literally danced on the tunes of folk and Sufi numbers by eminent performers. Punjabi singer Dolly Guleria who began with a highly acclaimed composition by Baba Bulle Shah - "Haji lok meccae nu jaande, mera ranjan maahi mecca," set the tone for the evening.

Wadali Brothers perform during a function held to mark the eighth anniversary of DD Punjabi in Jalandhar.
Future challenges: RCF meet to chalk out strategies
Kapurthala, August 7
A buyer-supplier meet was organised by the Rail Coach Factory (RCF) here to devise strategies jointly to meet the challenges ahead.
Young World
Teachers told about importance of SWOT analysis
Jalandhar, August 7
Punjab Agricultural University vice-chancellor Dr M.S. Kang visited the Sant Baba Bhag Singh Educational Institute and addressed the faculty on the importance of strengths, weaknesses, opportunities and threat (SWOT) analysis. The lecture was part of an ongoing workshop on "Effective teaching methodologies" being held for the faculty.
5 arrested in Jaspreet murder case
Jalandhar, August 7
The CIA staff of the local police claim to have solved the Jaspreet Singh murder case with the arrest of four persons.
Depressed man jumps before train, dies
Phagwara, August 7
A 31-year-old man allegedly committed suicide by jumping before a goods train near the railway station here late last night. Railway police officials said the youth, identified as Ashok Kumar of nearby Mehatan village, took the extreme step as he was under depression due to his prolonged illness.
Poisonous gas in well kills two
Kapurthala, August 7
Karanbir Singh (11) and his uncle Palwinder Singh (28) of Jhal Theikriwal village, falling under Bholath subdivision, were killed as they inhaled some poisonous gas after going into a well located near their house. Karanbir's mother became unconscious while doing so.
Nepali youth kills self
Jalandhar, August 7
A Nepali youth on Wednesday allegedly committed suicide in the Jhar Bagh locality of the city after consuming some poisonous substance.