Birthday gifts bring smile to kin of drug addicts
Amritsar, August 8
A leading philanthropist could never imagine that his small gesture of providing gift hampers on the birthdays of some of the students of the Citizen Forum's Vidya Mandir School would bring cheers and broad smiles on their faces.
Shiromani Gayika award for Bawa


Amritsar, August 8
"Four decades ago I could never imagine that one day I would become a folk singer as I wanted to join teaching profession but due to the persistent encouragement by my husband, who despite opposition from the family elders, supported me to become a singer." These views were expressed to The Tribune by famous Punjabi folk singer Gurmeet Bawa, who received the Shiromani Gayika award by the Punjabi language department during a special function organised today. Gurmeet Bawa


Band Brigade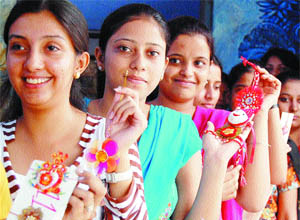 Participants during a rakhi-making contest held at Sarup Rani Government College in Amritsar. — Photo by Vishal Kumar
Heritage sites impress, upkeep doesn't
Amritsar, August 8
The state government should initiative steps for the preservation of heritage buildings of the city so that the coming generation could be made aware about its rich legacy.
Sidhu checks elevated road project
Amritsar, August 8
Taking a serious view of the persistent complaints of regular devotees of the Golden Temple and commuters of the potholed Amritsar-Jalandhar GT Road and the delay in the execution of elevated road project, Navjot Singh Sidhu, BJP MP, yesterday checked the entire working of the project, being undertaken by a leading multinational construction company.
IT can bring qualitative revolution: IAS lad from city
Amritsar, August 8
Information technology can bring about qualitative revolution in the management of the country and bring in transparency. IAS incumbent Rajan Vishal Mannan, who has made the holy city proud, while talking to The Tribune expressed his vision about how to improve the working of the state administration.


Maintenance Matters


Pathetic condition of Moranwala Chowk near international bus stand in Amritsar. — Photo by Vishal Kumar
Campus Buzz
Niti tops MEd exam
Amritsar, August 8
Niti Sharma of DAV College of Education for Women, Amritsar, has topped in M.Ed. examination of the Guru Nanak Dev University held in April 2008. Anita Sharma of Khalsa College of Education, Amritsar, stood second. The result is available on the varsity website www.gndu.ac.in.
Farmers, traders stage dharna
Amritsar, August 8
Various farmers and trade unions today sat on dharna near SDM's office in the city to protest against the rising inflation and privatisation of public sector units.
Rotary Club office-bearers installed
Amritsar, August 8
An installation and award function was organised for the new office-bearers of the Rotary Club Amritsar South here. The chief guest at the function, district governor-elect K.C. Kalra complimented the launch of a school library by club members who donated books, fans and other furniture to inculcate reading habits among schoolchildren.