THIS ABOVE ALL
Meat of the matter
KHUSHWANT SINGH

Some weeks ago I wrote about vegetarianism in this column. I expressed my aversion against depriving a creature of its life only because its flesh tasted nice. But I also wrote that vegetarianism was against the order of nature because just about every living being, besides ruminants, lived off eating another, including its own kind. As I expected I was hauled over the coals by shakaharis with missionary zeal common to them. They refuse to face facts not palatable to them—that around 90 per cent of mankind is non-vegetarian; vegetarianism is largely confined to Hindus and Jains; and even a majority of the Hindus eat meat, eggs and fish.
In the West though the number of vegetarians has increased, it still remains a fringe phenomenon. Go to any city in Europe or America, you will have a problem finding a vegetarian restaurant. Although all serve vegetables such as salads as side dishes, their mainstay is in meat, chicken or fish.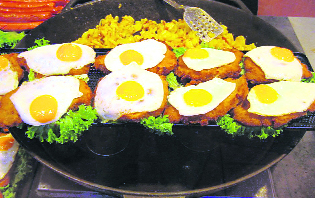 Around 90 per cent of mankind is non-vegetarian. Even a majority of Hindus eat meat, eggs and fish.
I recall the week I spent with novelist R.K. Narayan at a writers' seminar in Honolulu (Hawai). Every evening we went out looking for a vegetarian restaurant. We did not find one. Poor Narayan had to do with buying a carton of yoghurt from a dairy and finding a restaurant which could provide plain boiled rice to make a meal. For seven days that's what he ate for dinner.
The missionary fervour with which vegetarians, including Maneka Gandhi, propagate their cult makes little sense. Their belief that meat, eggs and fish are injurious to health is utterly spurious. Any nutritionist will tell you exactly the opposite. As for religion, apart from Jainism and its founder Mahavir, no other religions of the world or their founders were vegetarians—Buddha, Zoroaster, Abraham, Jesus Christ, Mohammed and Nanak down to the last Sikh Guru. They said nothing against meat-eating. In most Sikh homes, to this day meat is referred to as maha-prasad (the great offering).
Brave new world
Meenakshi Reddy Madhavan is younger than my grand-daughter. I have known her and her parents since she was five. Her father Madhavan of the IAS also has just retired as Secretary of the Bihar Government and is a leading Malayali novelist. Her mother Sheela Reddy is Telugu-speaking from Hyderabad and is now the Books Editor and columnist with Outlook magazine. So Meenakshi (Minna) inherited writing from both parents.
I was, therefore, not surprised when she came out with her first novel You Are Here (Penguin). What surprised me were its contents. It is about the brave new world of the young of our times. They begin to have crushes and date children of the opposite sex before they are 10; many start drinking hard liquor by 16 and lose their virginity in their teens. Their lives revolve around having parties in each others' homes. They indulge themselves till late hours while their parents sleep in blissful ignorance.
Meenakshi describes in vivid details how she willingly surrendered her virginity. It was painful, bloody, left her bruised with nail marks and bites, but ecstatic beyond any other sensual experience in life. She came out of it utterly exhausted but entirely fulfilled.
I am vaguely familiar with the brand of Anglo-Hindi lingo that today's teenagers use. Boyfriends are dudes or guys. Girls are ducks. Instead of meeting, they hang out, they chill or cool out to relax. And so on. Meenakshi explains some of their vocabulary. Bhav is a word that cannot be translated into English. I have tried before but have only come up with 'importance', but importance doesn't even begin to cover all that the word does. It is a powerful word, bhav, like so many Indian words that have no equivalent in any other language.
Like chayn, with a nasal ending, used to describe girls with whiny voices and a way of becoming completely helpless in front of guys that pisses the crap out of me; or even jootha, which basically means something that's been contaminated with your mouth and so can't be eaten or touched by anybody else.
Bhav is by far the best of all these words. Not giving someone bhav could mean not elevating someone beyond what they deserve, but it also includes the disclaimer: maintain a certain dignity in interactions between you and the person in question.
You Are Here is honest, explicit, well-written and highly readable. If the author was my grand-daughter, I would be mighty proud of her achievements but I doubt if I would admit she was related to me.
All black
In the late 1930s the Unionist Government of Punjab had only six ministers headed by Sir Sikander Hayat Khan. Among other ministers were Sir Khizar Hayat Tiwana, Sir Sunder Singh Majithia and Sir Chhotu Ram. Most of them were tall handsome with light wheat complexions. Assembly Speaker Chaudhary Shahabuddin was the one exception. He was short, ugly and dark.
There were two popular jokes told about Chaudhary sahib. One was that his father had employed an African servant one year before he was born. The other was that he had a long swim in the Black Sea while returning in a ship from Europe. Usually Chaudhary sahib was dressed in a brown round cap, brown sherwani and white churidars. One day he came with a black cap, black sherwani and black tight churidars.
This dress provided much laughter in the Assembly. Said Sir Sikandar Hayat: Chaudhary sahib, aj Assembly wich nange hi aa gaye ho (Today you have come completely naked in the Assembly)?
(Contributed by Jai Dev Bajaj, Pathankot)