Delightful romp
Deepika Gurdev
Almost Single
by Advaita Kala. HarperCollins India. Pages 284. Rs 195.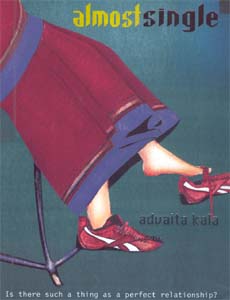 ON my recent visit to Chandigarh, I had to put my well-planned reading list aside because a cover had caught my attention at a book depot in the city. It showed a woman in a rather corporate looking maroon saree teamed with red Reebok shoes. It immediately commanded attention. Would this be one of those covers created just to sell?
I've got to admit till then I hadn't heard of Advaita Kala but a novel that's been rated on par with one of my all-time favourites Bridget Jones simply had to be read.
As I read page after page of this superbly written book, I realised it was more than Bridget Jones. But then we've always loved Western labels and comparisons. Remember Shobhaa De/Jackie Collins! For want of a better comparison parameter, its chick list and Bridget Jones for Almost Single.
In today's age, when Indian writing has reached out to readers across the world, in languages other than English, such monikers are truly outdated.
Reading Kala's assured debut makes me even more certain of that. She creates a woman of today's India. A woman, a growing number of other working women of that age can easily relate to. Her protagonist is 29 years old, single and ready to mingle. Meet Aisha Bhatia, a Guest Relations Manager at the Grand Orchid Hotel who can, among a host of other things, tell her wine and cheeses apart.
In one scene in the book, she does appear in the saree and sneakers attir,e with the saree draped over her jeans. So, the book does live up to its cover. In another scene, she struggles to come to grips with the six yards of cloth whose various folds keep getting tangled under her feet.
In another part, Miss Bhatia leans over to the driver's side and ends up stepping on her saree. "There is a gut-wrenching rip. And, to make matters worse, I find both doors locked. I ripped my saree for nothing."
Apart from coming to grips with the "strangling folds", Miss Bhatia smokes and drinks. She is modern yet traditional at the same time. She also ends up being part of a Karva Chauth ceremony, sees a guru, consults her astrologer while her closest pal puts up her single profile on a matrimonial website.
She and her friends hang out at 'Barista', chill out at 'Tao Bar' and hardly think twice before swiping their credit cards for a Rohit Bal outfit.
Welcome to the other India, as some may say. Look around, this has been the India for a couple of years and Kala has been spot on in not just observing the changes but narrating them with wit and candour.
Miss Bhatia's search for the love of her life and the series of witty incidents that pepper the narrative catch the winds of change much better than some of the literary laces tomes in the past. It comes as no surprise that the book has gone international. Random House is already taking advance orders for the edition slated to hit bookstores around the world on February 24, 2009.
One just hopes when that happens, critics have gotten over Bridget Jones and are ready to embrace the fully charged`A0and charming Aisha Bhatia.