Love through letters
Andy McSmith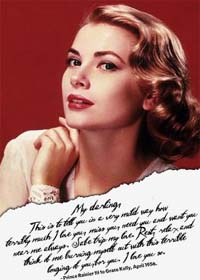 Grace Kelly with a quote from a love letter written to her by Prince Rainier of Monaco in the month of their marriage
THERE is a scene in the film Sex and the City that has sent its mostly female fans crowding into bookshops, only to emerge empty-handed. Carrie Bradshaw, played by Sarah Jessica Parker, is lying in bed next to her lover, Mr Big (Chris Noth), reading extracts from an interesting-looking book called Love Letters of Great Men.
But the trouble with the movie of Sex and the City is that so much of it is fake. For instance, the quotations that Carrie read out were real but the tome itself did not exist, much to the exasperation of booksellers inundated by hundreds of would-be customers wanting copies.
But now, a British firm, Macmillan, is plugging a gap in the market by issuing a new book with the same title as the fictitious one that so intrigued Carrie, and with the same wide choice of historical figures including Pliny, Henry VIII, Mozart, Napoleon, Prince Rainier III and Oscar Wilde.
In it, you can dip into letters from the poet John Keats, who died young and did not always get on well with women. In fact, he once complained in a letter to a male friend: "When I am among women I have evil thoughts, malice, spleen — I cannot speak or be silent — I am full of suspicions and therefore listen to nothing — I am in a hurry to be gone."
Many years after Keats was dead, The Times carried a bald, uninteresting obituary of a 65- year-old woman, Ms Fanny Lindon. You cannot blame the obituary writer for not knowing who Ms Lindon was, because she had kept the secret even from her husband. She was Fanny Brawne, the lover who had befriended Keats when he was penniless and had become his inspiration.
After his death, she watched his reputation grow while she kept his love letters stashed away for her children to read one day. In one, he wrote: "I love you the more in that I believe you have liked me for my own sake and for nothing else. I have met with women whom I really think would like to be married to a Poem and to be given away by a Novel."
Another featured poet is the notorious Lord Byron, who was the nearest 19th-century equivalent to a rock star. He had an infamous fling with a married woman, Lady Caroline Lamb, who famously warned that he was "mad, bad, and dangerous to know" — a warning ignored by Teresa, Countess Guiccioli.
She, a teenager married to a man more than 40 years her senior, met Byron in Italy and became the love of his life. "My destiny rests with you," he told her in one of his many letters. "And you are a woman, 17 years of age, and two out of a convent. I wish you had stayed there, with all my heart, or at least that I had never met you in your married state. But all this is too late. I love you, and you love me — at least you say so, and act as if you did so, which last is a great consolation at all events."
By arrangement with The Independent