Food talk
Fun with fish
This sweet and sour delight can be prepared in a jiffy, says Pushpesh Pant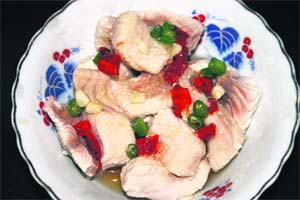 FISH lovers are almost evenly divided among those who prefer it with bones or without. The jury is still out deciding whether the creatures dwelling in sea are tastier than their relatives in the rivers overflowing with fresh water. Friends from Bengal insist that the claims of the produce of pukhurs (pond) shouldn't be overlooked. Believe it or not, there are weirdoes who claim that nothing matches the taste of sardines tightly packed in oil in a tin. Fermented, pickled, sun dried fish all have die-hard loyal supporters.
Then there are ongoing debates about cooking techniques: frying, steaming, poaching, baking, grilling, cooking draped in leaf, buried underground for exotic baking and countless permutation and combinations resulting from pairing with different spices and addition or deletion of gravy thin or thick. We are content to exclaim, "We live in a free country, to each his or her own".
It is time to get rid of the myth that it is only those who live along the coast are true fish lovers. We are not afraid to proclaim that people like us, born and brought up in 'landlocked' parts of mother India loved the finned folk no less and devour these with great relish. Even small rivulets and mountain streams yield an unimaginable bounty of tasty fish. So strong is their presence that, at times, you can do without the fish.
A poignant folk tale from the hills bordering Nepal talks of a fishless fish curry prepared by a poor woman whose husband failed to catch any fish one day. The family was addicted to fish but there was no money to buy any. The resourceful mom fed the hungry children a novel fish curry by using a stone from the rivulet nearby that had a fishy stench.
There are classic recipes based on mustard, ajwain and coconut milk that are considered signature delicacies representative of regional cuisine — Maccher Jhol, Goan fish curry, Meen Moilee and so on. Hyderabad and Kashmir have very different but equally tempting versions of khatti macchali that have always made us think about the khatti mithi macchali. After all, the Chinese repertoire is replete with sweet and sour recipes, including those treating the fish in this two-in-one flavour manner.
When we found some boneless fillet of river sole lying around in the freezer recently, we decided to experiment with whatever else was in sight. As luck would have it, there was in a shelf by the freeze a small jar of honey and it was difficult to miss the couple of lemons around. The result far exceeded our expectations and we are emboldened to share the recipe with our readers. What commends it even more is that the white meat is cooked without a drop of oil and is finished in a jiffy.
chef's corner
Ingredients
River sole fillets 500 gm
Bay leaf one
Honey 2 tbsp
Lemon juice ¼ cup
Peppercorns (coarsely pounded) 1 tbsp
Red chillies (soaked and shredded) two
Salt to taste
A small sprig of fresh coriander
Method
Wash the fish and cut into bite-size pieces. Boil for about five minutes. Remove, drain and keep aside. Blend honey, salt and lemon juice in the cup then add pounded pepper and shredded red chillies. Place the fish in a platter and pour the dressing over it, ensure that all the fish pieces are well coated with it. Check seasoning and enjoy with steamed rice.