Hollywood Hues
Black is back
Talk to Me overdoes the cause of blacks, writes Ervell E. Menezes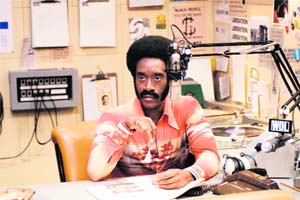 Don Cheadle plays a radio jockey in Kasi Lemmons' Talk To Me
BLACK cinema may have come into its own in the mid-1980s with the advent of John Singleton and Spike Lee but now it is probably in a state of overkill or else what would you say of Talk to Me, a story set in the mid-1960s and centred on two blacks who become radio celebrities? True story, no doubt, but blown quite out of proportion and a profusion of four-letter words and one "hot favourite" that's thrice as long.
Ralph Waldo "Petey" Greene Jr (Don Cheadle) is a former convict (though he prefers to call it miscreant) who becomes a DJ and with his outspoken comments endears himself to his listeners and he is encouraged by Dewey Hughes (Bruce McFee) who works with the radio station How the alcoholic, no-good Petey worms his way into the radio station, along with his temperamental girlfriend Vernell (Chiwetel Ejiofor) and turns it upside down much to the chagrin of boss E.G. Sonderling (Martin Sheen) is only mildly amusing.
A bit of exaggeration may be good for effect but director Kasi Lemmons shows little insight into either drama or music. He could have cashed in on those Martin Luther King Jr days but he just skirts the issue. Instead, he dwells too much on the Petey-Dewey relationship as they blow hot and cold. But this is the problem with biography. One has to be selective about the anecdotes. While it takes ever so long to establish Petey's bona fides, it seems to run out of patience in the last quarter, rushing through history like a fast train. But by then the film has already slipped out of grasp with the viewer looking fondly for the end. Black power is given enough of footage. In fact, it becomes obsessive, even glorifying its scant respect for d`E9cor or discipline.
There is a reference to Mr Tibbs played by Sidney Poitier who was considered a goody-goody black actor or accused of playing the black like a white man wanted him to. But then, he had to make a start. Now the blacks seem to be overdoing their thing to the point of annoyance. The "tricky Dick" reference to President Nixon, however, is quite cute.
In Don Cheadle, who seems to have graduated from a comic of Police Academy to serious roles like Hotel Rwanda, you have an actor with potential who must be controlled, but he is allowed to run riot and Bruce McFee is not much of a sobering influence. Chiwetel Ejiofor is merely decorative. A bloated Martin Sheen makes an appearance after a long absence but the story goes through too much of needless footage before running out of steam. Whatever good it is intended to project is lost in a jungle of piffle and these indulgent films will do the black cause little good.