Wrestling for fame
Chandgi Ram Akhara in Delhi is home to about 15 girls between 14 and 20 years. In a world where wrestling has been a male preserve, 'Guruji' wants the girls to make a mark,
writes Preeti Verma Lal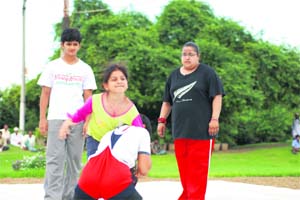 Two women wrestlers grappling in Chandgi Ram Akhara.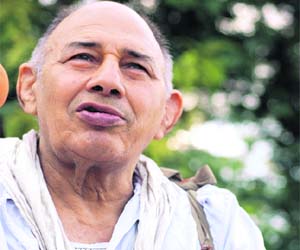 'Guruji' Chandgi Ram, India's 1970 Asian Games gold medallist, set up the akhara to train women wrestlers for international events. — Photos by WFS
IT is a Sunday evening. A frail man on a parked motor cycle beats a drum briskly. There is not much rhythm to the beats but the crowd is milling around Maulana Azad Park, near Jama Masjid, Delhi. An old man with a beard is guarding the green iron gate. He lets people in only after they have dropped Rs 2 into his plastic bag. Inside the park, a man is selling bhel-puri in a wicker basket. Hundreds of men have gathered in the park. Only men. Women are not allowed inside the park everyday. They can walk in only during the dangal (wrestling match).
"Are the girls coming?" one man whispers. "Yes, they come every Sunday," another answers surreptitiously. Just then in walk a bunch of girls, teenaged and short-haired, dressed in track pants and T-shirts emblazoned with the word 'India'. They are wrestlers from the akhara of Padamshri Chandgi Ram, the man who was once synonymous with Indian wrestling. He was the 1970 Asian Games gold medallist. As Guruji, which is what Chandgi Ram is often called, steps in dressed in white, holding two walking sticks, there's a buzz. The mike crackles, a mat is spread on the 40 x 40 feet dug up earth and the girls get ready in their one-piece skin-tight red wrestling costumes and mat shoes.
Neelam Lathar and Rekha Kadyan shake hands and the wrestling match begins. The allocated time is five minutes. The girls slug it out on the mat, trying their best to pin the other down and win the match. It is a tough fight; the crowd is cheering and the commentator keeps egging on the girls. Rekha wins. The head of the local wrestling committee pulls out a Rs 20 note from his black bag and hands it over to the winner.
As the two head back to the rickety benches, Poonam Pawar (17) and Jeetu Sharma, who is in her late twenties, take to the mat. This time not to wrestle but to act as referees for the little boys who wait for their turn to wrestle. They count the points and declare the winners. Nobody challenges their decision; their word is final. In a world where wrestling was always a male preserve, these girls have come a long way. In Chandgi Ram Akhara (wrestling pit), their day begins with the sun.
Strict schedule
At 5 in the morning the girls head to the neighbouring park for a 2-km jog, after which they do 100-odd push-ups, and then they don't just run up and down the stairs in the park but also walk on their hands. That's just the warm-up. This is followed by a two-hour exercise routine. Later, they return to the hostel and make themselves an energising drink from soaked almonds. After an hour, the girls enjoy a breakfast loaded with fresh fruits and green vegetables. Rest is followed by a protein-rich lunch. From 4 to 7 in the evening, they practice on the mat. It's lights out by 10. Guruji is very strict about food. Chips, wafers, colas, sweets and other junk food are strictly prohibited. But these youngsters are not complaining. For them, wrestling is a conscious choice.
Rekha Kadyan (20) saw her brother wrestling in her village of Sewah in Haryana. Every time he pinned his opponent down, she wondered why she could not do what her brother did so deftly. One day she quietly mooted the idea of becoming a wrestler to her family. She was wary of the response but found an unexpected supporter in her brother. Rekha packed her bags and came to Chandgi Ram Akhara, the only akhara where female wrestlers are trained. Rekha is not the only lucky one.
It was Sudesh's father who prompted her towards this career option. Sudesh (16) knew her dreams were getting stifled in her village near Karnal. So, when her father, a huge World Wrestling Federation (WWF) fan, suggested she take up wrestling, she happily agreed. She misses home, but, as she puts it, "I have to do something in life and I could not have achieved it in the village. I am glad I left home. All girls should leave the village."
For Neelam wrestling was an obvious choice—her grandfather, father and uncle had been wrestlers. But isn't it a manly sport? "Who cares," retorts Poonam, who is also from Haryana. "All that matters in the end is fame. I want that fame, not just national fame. I want my name splashed across the world." Poonam goes home to take her school examinations; she wants a secure future. She knows a degree would get her a job and then she can chase fame with greater freedom.
Presently, the akhara is home to around 15 girls in the age group of 14-20. Most of them hail from Haryana and belong to the lower middle class. Though there is no selection criteria, the girls are personally selected by Chandgi Ram. There is no fee charged to teach but they have to pay for their food and clothing needs. They can stay and train at the akhara for as long as they like, but most stick on till five or six years.
The girls are hopeful that after they finish their stint as wrestlers they would get decent jobs at nationalised banks or in the Railways, where sportspersons are accommodated. Of course, they owe it all to Chandgi Ram, their mentor. Says Guruji: "I would do anything for these girls. I want them to carve a niche for themselves in the world of wrestling. And it will happen in my lifetime."
Hungry for medals
A lot has certainly changed since the late 1990s when women started opting for wrestling as a career. Vinod Tomar, assistant secretary, Wrestling Federation of India, observes: "The facilities and incentives for male and female wrestlers are the same. Our federation holds camps and selects the best female wrestlers for international competitions. Several championships are held worldwide for the senior, junior and cadet categories. We select the best in each weight category and the government provides funds for those chosen."
That is not all, though. The Sports Authority of India (SAI) also organises regular camps at its centres and even provides scholarships to talented wrestlers who are financially weak. Sudesh is a case in point. For the gritty girl the Rs 1,000 scholarship (given to her every month by (SAI) is not enough to buy the almonds, milk, fruits and fresh vegetables she needs every day to increase her energy but, as she puts it, "even a small sum helps."
Her monthly expenses add up to Rs 4,000 but her parents are happy to provide the rest. They know they are investing in their daughter's future. Sudesh, too, knows that one day she would do herself and her parents proud. Sitting in the akhara under a berry tree, the girls chirp on and on about their unusual career choice and the dreams that stem from it. Nothing else matters to them, for they are ready to wrestle all odds to fight that one big bout and bring home not just glittering medals but also fame. — WFS