Kasauli's changing ambience
Maj Gen Himmat Singh Gill (retd)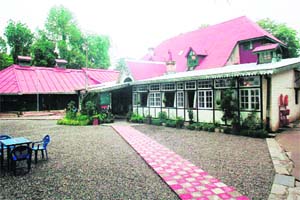 The Kasauli Club is one of the few spaces that blends with the scenic surroundings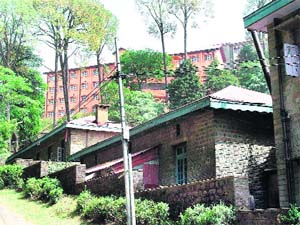 The new constructions that are coming up in Kasauli threaten to spoil the charm of the place
— Photos by Manoj Mahajan
IN the fading light on the lower Mall as the mist surrounds the hillside, the hill station of Kasauli finds itself confronted with a noisy and overcrowded present in vivid contrast to the unhurried ambience of a past gone by. The past has all but faded with a few exceptions here and there. It still lives in a painting in the Kasauli Club that shows the first troops that came to Kasauli. The troops were from the 10th Bengal Lancers (later called Hodson's Horse) and the Somerset Light Infantry, or Sunny Side, the house first occupied by Sir Henry Lawrence, or Gilbert House where Maj Gen Gilbert, Commander of the Sarhind Garrison, moved in 1845.
Kasauli's timeless beauty and solitude now seems to be a thing of the past. Rowdy motorists from the plains honk merrily as they spin around the hill bends. They clutter various viewpoints spilling chana bhatura and samosa crumbs on the benches they sit on. Saturdays or Sundays are a nightmare for the locals when it is fashionable for visitors to just 'drive up' from Chandigarh. No wonder that once- a –year VIP resident of the town Khushwant Singh writes in his columns about a place, which he had always loved but which is now withering away under the onslaught of crowd and the garish affluence it brings along with it.
Today a social debate is required on the issues concerning hill stations and the kind of visitors that come up to them. These may include the low-budget visitor, who suddenly seems to have discovered his love for the hills or those with a snobbish attitude so as to boast to their friends that they had gone to a hill station. For many in the latter category, cleanliness and a distinct identity for which many of our hill stations are known for, means little.
The hills of Kasauli came to life when the British cavalry built Sabathu, Dagshai and Sanawar school, which was initially meant for the wards of soldiers.
Today Kasauli houses an infantry brigade and has a cantonment board, but India has marched on leaving the military with a huge problem of keeping its unit area secure and free of tourists, many of whom loiter about and gate crash into restricted areas. Cars, driven carelessly on the Upper and Lower Mall, at times nearly run over pedestrians, who have come for some peace and tranquility. Despite ban tourists continue to feed the monkeys and langurs that now deem it their right to snatch any bag or packet with foodstuff in it.
Areas around various hill stations have started smelling of human and animal feces. Kasauli is no exception to the gradual wearing down of hill stations and their last gasp for breath due to the population pressure, which combined with the added load on basic amenities of water and power besides the need for an effective sewage removal infrastructure, makes day-to-day living for the locals not a happy experience.
The local administration has not been able to stop or put a check on people messing around with this once beautiful and serene hill station. The moot point is that do many of us deserve the hill stations that we visit for joy and pleasure, but which we are loath to keep clean, well maintained and properly sanitised.
The time has come to safeguard our hill stations and their natural environment as also the history and tradition behind them. Strict laws are required with even stiffer penalties for the lawbreakers.
Our hill stations are also facing a 'concrete' threat as new constructions continue to dot hillsides in virtually every hill station in the country. Owners have somehow managed to get sanctions. Real estate agents have moved in for the kill with no concern for environment or the maximum capacity of population that any city can sustain.
At this rate Kasauli, or for that matter any other hill stations in India, may be heading for a terminal break down. Some spirited organisations and individuals are fighting hard to save Kasauli, but it is only stringent state control measures and their vigorous enforcement that can now save the situation.
The hill states in the country may need to bring in hill-specific legislation, which can put a stop to the 'migrant' community that finds ways to buy real estate and settle down permanently in the hills. There is also a need for rules to control and regulate the number of tourists that can and should come up to a hill station in one particular year. There may be protests about it, but unless something is done soon, we may not be left with any hill stations to go to.
It is time to save the hills and the few hill stations that the British have left us.