Singh-King feeling
Punjabis on screen have charmed audiences with their exuberance, writes M. L. Dhawan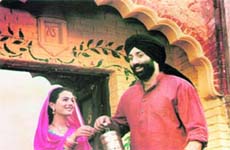 Sunny Deol set the screen afire as a turbaned hero in Anil Sharma's
Gadar — Ek Prem Katha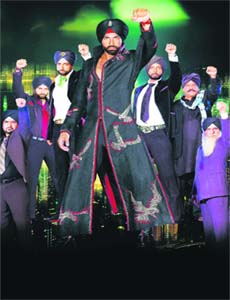 Akshay Kumar as Happy Singh in Vipul Shah's Singh is Kinng
Whenever a filmmaker has shown a leading man in a turban on the screen, it has always worked wonders. Besides adding to the intrigue, such characters pay a tribute to the gregarious and boisterous Punjabi community.
While driving behind a truck on the highway, Akshay Kumar was amused by the slogan "SINGH IS KING" written on its rear panel. From this, he suggested Vipul Shah that it would be a good idea to make a film on a turbaned machoman. And so came Singh is Kinng, the story of Happy Singh (Akshay Kumar) — a 'patit' Sikh with shorn hair and beard who becomes a 'puran' Sikh by the end of the film. The story shifts from a small village in Punjab to Australia's underworld. Lakhan Singh a.k.a Lucky (Javed Jafferi) from Punjab is a don in Australia's underworld. Far away in his native village lives a simple Happy Singh. Villagers send Happy Singh to Australia to bring back Lucky whose nefarious deeds have been maligning the village.
Vipul Shah's another Akshay Kumar-starrer Namastey London was essentially about being true to your roots. Jasmeet a.k.a Jess (Katrina Kaif) protests when her father Manmohan Singh (Rishi Kapoor) arranges her marriage with Arjan Singh (Akshay Kumar), a farmer from Punjab. Jess wants to marry her English boyfriend, Charlie Brown.
Arjan Singh finally succeeds in convincing Jess that love is more about giving than taking. Indian values triumph over the western ones. Jasmeet wins over Jess.
In Satish Kaushik's Badhai Ho Badhai, Shilpa Shetty plays a boisterous sardarni as Banto Betty. Banto's Punjabi dialect, satin tight Punjabi suits, roadside goggles, shining sandals and long plaits with paranda gave her an appealing Punjabi 'kudi' look.
According to Anupam Kher, who wore a turban in Bend it like Beckham, the Punjabi community is known to be quite extrovert. People of this community are demonstrative in their affections.
In Aditya Chopra's Mohabbatein, Archana Puran Singh and Anupam Kher enthralled cinegoers with their Punjabi act. Johnny Lever made an unusual sardar in Raja Hindustani — without a beard and a moustache, which attracted lot of criticism.
In Karan Johar's Kuch Kuch Hota Hai, the turbaned Farsan Dastoor tickled the funny bone of the audience. He is always immersed in thoughts and keeps on counting the stars. In David Dhawan's Biwi No 1, Anil Kapoor and Tabu play an affectionate Punjabi couple. In one of the scenes where the security is whisking Tabu before she boards a plane, she shot back saying she would not allow anybody to touch her except her husband.
According to Dhawan, the scene was actually borrowed from a real incident which took place with one of his relatives in Punjab.
J. P. Dutta's Border (1997) was inspired by the Battle of Longewala. The story is about a small Indian battalion of the border region of Longewala — merely 50 in number, which bravely withstands the enemy's attack. Sunny Deol plays a Sikh commander who inspires his men to fight the enemy to the finish. He tells his men that the highest honour was having bullets on their chests and not medals. Inspired by him, the soldiers strap grenades to their bodies and hurl themselves at the enemy's tanks.
Gulzar's Maachis (1996) encapsulated the Sikh community's ire at the state of affairs that led to violence and bloodshed in Punjab. It did so by depicting the plight of three youths — Kirpal Singh alias Pali (Chanderchud Singh), his bosom friend Jaswant Singh Randhawa alias Jassi (Raj Zutsi) and the latter's sister Veeran (Tabu).
Jassi was taken into police custody for interrogation in a case involving a militant named Jimmy. Jassi had a pet dog 'Jimmy' which was enough for the police to accuse Jassi of harbouring dreaded terrorists.
When Jassi returns a physical wreck, battered and bruised by police, Kirpal and Veeran take recourse to terrorism. Egged on by a cynical Snatan (Om Puri), they agree to wage a war on the state by targeting high functionaries.
Sunny Deol set the screen afire with his portrayal of a Sikh in Gadar — Ek Prem Katha (2000). The story is set in 1947. Tara Singh (Sunny Deol), a Sikh truck driver, saves a Muslim girl Sakina (Amisha Patel) from a rampaging mob during the riots. The two fall in love, get married and have a child.
When Sakina's family, which had migrated to Pakistan, comes to know that she is alive, they call her to Pakistan. Sakina's father who had, by then, become the Mayor of Lahore persuades her to forget her husband and family and forces her to get married to a Muslim boy in Pakistan. Tara arrives in Lahore and confronts her father. When her father insults India, Tara Singh goes on the rampage and returns to India with his wife.
Among the most appealing sardar characters was that of Dharmendra as Bikram Singh in Satyan Bose's Jeevan Mrityu (1970). In the film, Ashok Tandon (Dharmendra), a bank manager, who is to get married to Deepa (Raakhee), gets arrested for a bank theft and is sentenced to an imprisonment for seven years. Meanwhile, Deepa marries elsewhere. After his release, his friend Ranbir Singh gives Ashok a job as well as a new identity. Ashok becomes Bikram Singh and seeks out Deepa and settles scores with those who had ruined his life. Dharmendra evokes great response from the audience with his turbaned disguise.