Bengali cinema goes global
Shoma A. Chatterji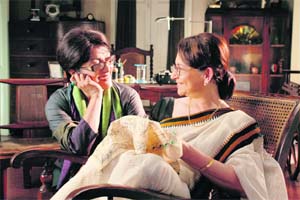 Aniruddha Roy Choudhury's Antaheen brings together for the first time Aparna Sen and Sharmila Tagore
Antaheen (eternal) is the title of a Bengali film directed by Aniruddha Roy Choudhury, whose maiden feature Anuranan, won the National Award for the Best Regional Film (Bengali) this year. The film may spell out a different story. But it points out the eternal possibilities of cinema as a universal language with a fluidity that transcends barriers of geography, language, culture and class. Antaheen, within the structure of its making, underscores this fluidity.
The film brings together Sharmila Tagore and Aparna Sen together for the first time. They portray two important roles. Aparna Sen's husband, Kalyan Ray, who teaches English literature at Morris College in the US, is playing her husband. Rahul Bose, who has created a fine balancing act by acting in English, Bengali and Hindi films, is a part of film's cast.
Mita Vashisht, the actor known for her powerful cameos, plays Shalini Sharma, the wife of a wealthy man. Shauvik, who plays her husband, is a Detroit-based NRI who flew down for the shoot and went back. Radhika Apte, a well-known talent in Pune's Marathi theatre, plays Rahul's wife. Shantanu Moitra is doing the musical score. The lyrics have been penned by Anindyo and Chandril, lead singers of noted Bangla Band Chandrabindu. Abhik Mukhopadhyay, the cinematographer, has not only won awards left, right and centre, but is also one whose work covers regional, national and international projects.
"The audience today wants to discover and identify itself from and with the characters of the films it sees. It wants films rooted in reality. My film carries this argument further by exploring the lives of three urban, contemporary and upper middle-class couples of different age groups going through struggle in their marriages.
Sharmila Tagore plays an aging aunt who lives alone in a mansion in Kolkata. "She is a common thread among the couples whose stories congregate in the climax," elaborates Aniruddha.
There are other strands that characterise this as a new-age film. Abhik Choudhury (Rahul Bose) is a police officer. He meets his wife during an Internet chat session, interpolating the role of information technology in establishing marriage liaisons. He is Bengali but his wife Brinda, is a South Indian. She is a television journalist. Paromita Choudhury (Aparna Sen) is the marketing manager of a popular satellite channel. She is married to Abhik's older brother Ranjan (Kalyan Ray) but they live separately though they are not divorced. The Sharmas are non-Bengalis who reside in Kolkata. Boredom has seeped into this marriage of affluence. The media and IT, therefore, are significant elements of Antareen, perhaps a throwback on the director's long love affair with commercial films. These two great star-actresses have willingly agreed to do two stellar roles in his new film now on the floors. "I am honoured to be able to bring these two pillars of Indian cinema together in my second film," Aniruddha sums up.