TELEVISION
The Olympian nest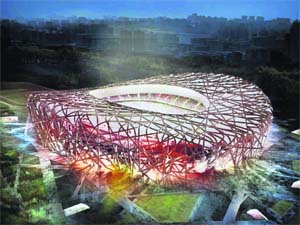 The Birdís Nest stadium in Beijing is an architectural marvel
ITíS a stadium like none other. Nicknamed the ĎBirdís Nestí it is the main stadium for the 2008 Summer Olympics and is made up of 42,000 tons of steel and hundreds of tons of concrete.
The stadium with a seating capacity of 91,000 is the centerpiece of the Olympics hosting the opening and closing ceremonies, the main track and field competitions as also the soccer finals.
National Geographic Channel takes you inside the Birdís Nest in Beijing Olympic Stadium on Thursday at 8 pm. The stadium has been designed by Swiss architects Herzog and De Meuron and Chines artist Al Weiwei. It is curved and double-layered, offering soundproof, wind-proof, rain-proof, and even UVA protection to spectators and athletes.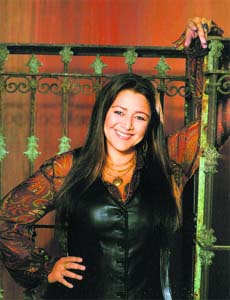 Ghost Whisperer is a thriller that explores the supernatural side of life and death
Ghost stories
FOR three seasons the serial has caught the imagination of American viewers because of its unnerving storyline.
Ghost Whisperer (every Thursdays 10 pm. on Star World) revolves around Melinda Gordon (Jennifer Love Hewitt), who has a special ability to communicate with the dead Most of the ghosts she communicates with are the ones who cling to the living because they have unfinished business that prevents them from moving beyond the familiar plane of worldly existence.
The serial explores the supernatural side of life and death as Melinda navigates among the dead and the living in her sometimes heart-rending and sometimes amusing attempts to act as an intermediary between the ghosts and those they come back to haunt. ó NF