Enigma of 786
For some it signifies cultural sensibility, for others faith. Whatever the reason, the holy number rules
LOOKING back, Amitabh Bachchan owes a lot to the badge he wore in Coolie. Billa number 786 not only gave him super power and a second lease of life on screen, it also ultimately helped him survive Puneet Issar's near fatal blow during the shooting. And thus lived the angry young man, long enough to be the onscreen romantic old man. And, in the process, gave us something to muse over — the power of the holy number.




Faith unLimited: Anwar-ul-Haq with wife Jannat
Mind your lingo!
We may have crammed sections of Chaucer's poetry & Milton's verse but nothing beats the mother tongue as a medium of expression, as Neha Walia finds out
WE may spend moolah on buying private education for our children, learning nuances of English, getting that proper accent and grammatically correct verbal communication. But in the moment of any linguistic emergency, what slips out from our tongues is our own 'mother tongue'.
Sunday Sunshine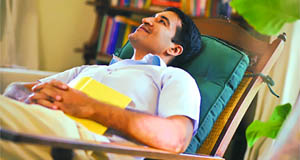 Eat, sleep, relax... just put your feet up and chill!
IT'S a Sunday. And the very idea of a weekend sends across a lightening of pleasant thoughts, a drive to the hills, brunching out, visiting old pals or best of all- lazing around. Whatever the idea, everyone has a plan for a perfect weekend. And as life turns more than busy, the very idea of a weekend has altered. We share notes.
The Hunt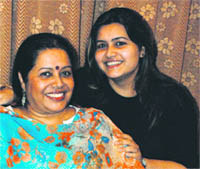 Pammi Somal is on the lookout for girls: one for her film and another for her son
LAST time we met Mummyji Pammi Somal she was high on the success of her debut film as a director. After almost a year, we catch her again donning a different role — that of a prospective mom-in-lawji. So, she is back in the city again with daughter Jenny. This time, hunting for a girl to act opposite Garry Gill in her next project, Kab Se Sambhalle Rakha Hai Dill (the extra 'l's are for numerological reasons), and also a girl for son, Sonny.
Stressing it a little too far
Yoga, walks, a steaming hot cup of chai: Our young professionals try it all to de-stress at work
SITTING in front of the computer for hours, work pressure and cut throat competition. Then comes the need to socialise. In midst of all these, health takes a backseat. Facing numerous health problems like backaches, high blood pressure and sleeping disorders, are young professionals who are struggling hard to keep themselves going in life and career.
Express yourself
'CATCH them young, and then groom them in a realm of their choice'. This seems to be the noble concept of Chandigarh Sahitya Akademy for organising a workshop on creative writing at the akademy complex on Saturday.

Matka Chowk
Monsoon melody
RAIN is the stuff of romance in our continent. Innumerable poets have written exquisite poetry simply being inspired by a rainwashed morning. Heroines have sung immemorial songs while their white pallu flew out in the stormy winds. A keyword search of bheegi bheegi would open endless Indian sites.
Write to Renee


n I am a 24-year-old girl, living in constant fear of the unknown. Life seems like a huge question mark to me. As a kid, I often used to have nightmares. It happens even now and I then find it difficult to go back to sleep. I grew up in a boarding school where girls would narrate ghost stories at night. I used to get scared. Even now I hate to sleep alone. I keep praying and fear is a constant element in my life. I do not enjoy holidaying. Can you help me to get over my irrational way of thinking?
Little Interview
Tough grind
HOT and happening, she is the new face of glam girls, who like to play it tough. Dipannita Sharma, model turned actor and one of the 13 participants of Fear Factor Khatron ke Khiladi, gets candid about her participation and elimination from the show, her marriage and lots more.
First day first show
A Happy go Lucky duo
DIRECTOR Anees Bazmee is an unabashed purveyor of strange beliefs. One of these is that frivolity sells. This made him turn gangsters into matchmakers in Welcome. It now sees him convert mobsters into comical characters in Singh is Kinng.
Beyonce 'whitened' up?
COSMETICS giant L'Oreal has denied lightening singer Beyonce Knowles' skin tone in their new advertisement. The company came under fire when a picture of the stunner was published in Elle magazine - showing her complexion lighter and reddish-blonde hair.
Anthrax threat
The building housing offices of Tom Cruise and Salma Hayek received a security threat involving anthrax.
Health Peg
Intake of oily fish once a week may reduce age-related macular degeneration (AMD), a major cause of blindness and poor vision in the elderly, says a new study published in the American Journal of Clinical Nutrition.