PILL Prospects
The health sector needs a dose of pharmacists
Pharmacists are the trusted health resource for the whole family, goes a saying. The pharmaceutical sector holds an exciting and fast-moving career for those who have a desire to help people improve the quality of their health and possess an ability to communicate clearly and effectively.
Careercature
Sandeep Joshi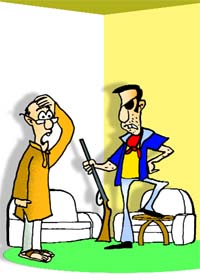 When I asked you to pursue your career in shooting, I had the Olympics in mind, not this.

WAGE WOES
Salary pressure raises margin concerns for BPO firms
Amid growing economic concerns and high attrition rate, leading outsourcing firms such as WNS, ExlService and Genpact have warned that rising employee salaries could eat into their profit margins.
Luck vs pluck
Dr Maxwell Maltz, in Psychocbenetics, says, "A human being always acts, feels and performs in accordance with what he thinks to be true of himself." That is why Albert Einstein said that imagination is even more important than knowledge.
Smart Skills
Beastly choice
If you have enjoyed watching baby turtles hatch on the beach on a dark moon night, or been captivated watching a mother tiger feed her young on the National Geographic channel, why not make a career in zoology?
ADDING NUMBERS
IT, finance firms to recruit over 1.65 lakh: study
The global economic slowdown has not impacted recruitment plans of IT and financial services firms that have announced to hire over 1.65 lakh personnel during the last seven months of 2008, an Assocham study has said.
Bits & bytes
Delhi to give scholarship to backward students
The Delhi Cabinet has decided to grant scholarship to socially and economically backward students studying in universities, aided, un-aided and government affiliated institutions in the capital.
Career Hotline
Pervin Malhotra

AUTO MODE

Radio activity

Civils conduct

Research route

Texts and tomes