Heavy rain likely to cut short I-Day celebrations
Jalandhar, August 14
If the current rain spell fails to break till Friday morning, the district-level Independence Day function is likely to be affected and cut short.

Security arrangements in place
Chaos At Crossing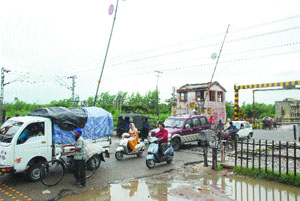 MC proposes, Railways disposes
Jalandhar, August 14
The indolent and apathetic attitude of the Railways has been giving harrowing time to commuters here as widening of level crossings at Guru Nanak Pura and Ladowali Road had been hanging fire due to it.
A scene at the railway crossing at Guru Nanak Pura in Jalandhar. — Tribune photo by Pawan Sharma

Image Change
Mehatpur govt girls' school becomes a trend-setter
Jalandhar, August 14
Government schools in Punjab, which have always been criticised for lack of initiatives, seem to be witnessing a wind of change. In perhaps a first-of-its-kind effort, Government Girls Senior Secondary School, Mehatpur, organised elections for the post of head girl, a practice hitherto common in public schools.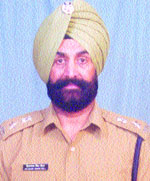 Senior superintendent of police (vigilance bureau, Jalandhar range) Dilbagh Singh Gill, who has been awarded the Police Medal for meritorious service on Independence Day.
Medical Bane
Naujawan Bharat Sabha protests poor health services
Jalandhar, August 14
Braving the downpour, activists of the Naujawan Bharat Sabha today staged a rally to protest against the poor condition of the health services in the countryside.
J&K stir hits Punjab poultry business
Jalandhar, August 14
Continued blockade on the national highway towards Jammu and Kashmir by the agitators over the Amarnath land row for the past over one month has not only put an adverse impact on the tourism to the hill state but has also badly affected the trade, especially of poultry business of Punjab, which is the main supplier of live stock of chicken and eggs to J&K.
Young World
Schools celebrate Independence Day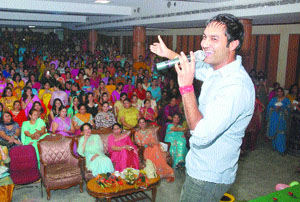 Jalandhar, August 14
Students of CJS Public School celebrated Independence Day on Thursday. On this occasion the students presented patriotic songs, poems and speeches. Principal Ranbir Kaur unfurled the National Flag and encouraged the students to work hard.
Kulwinder Wadali performs at Lyallpur Khalsa College for Women in Jalandhar on Thursday. — Tribune photo by Pawan Sharma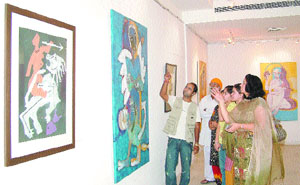 Colour me abstract
Jalandhar, August 14
The city is coming of age. The silent revolution, started by the artists of the region, is finally giving way to a bigger movement. So it seems. "Vibes of Spirits", a three-day painting exhibition which concluded at Virsa Vihar here on Wednesday, seems to have provided the art lovers with an all new perspective.
Art lovers appreciate a painting at "Vibes of Spirits" exhibition in Jalandhar. — Photo by S.S. Chopra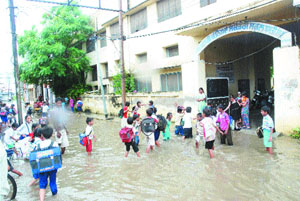 Rain spell makes a pool out of government school
Jalandhar, August 14
The continuous spell of rain for the past three days left the entire campus of Government Girls' Senior Secondary School in the low-lying Basti Sheikh area inundated, making it impossible for the school to function normally.
Students of government school, Basti Sheikh, wade through knee-deep water in Jalandhar. — Tribune photo by Pawan Sharma
Blessing In Disguise
Heavy rain a hope for better ground water level
Jalandhar, August 14
The heavy rain, which was witnessed in Punjab during the past 24 hours, may have caused inconvenience to the people due to waterlogging, but it brought cheerful hope of improving the ground water level, which had gone deep low due to a large scale sowing of paddy.
City rues 'washout' of Olympic business
Jalandhar, August 14
The dreams of sports goods manufacturers of reaping gold in the Beijing Olympics and the forthcoming Commonwealth Games have been dashed as not a single order of sports goods has come into their lap from these world-class events.