Mall Malice
MC commissioner asks SSP to book owner
Amritsar, August 15
Municipal corporation commissioner D.P.S. Kharbanda, in a missive to the SSP of Amritsar, has urged him to register a case against the owner of a mall (under construction) on Batala Road here for putting the life of the general public to great risk by not complying with the norms of construction.
Partition Pains
'Politicians should have prevented bloodshed'
Amritsar, August 15
A motorcycle rally, organised by the Internationalist Democratic Party (IDP) and dedicated to those killed during a nuclear attack on Hiroshima and Nagasaki in Japan and partition of India, arrived here yesterday.
Stagnant water poses threat to Ranjit Avenue residents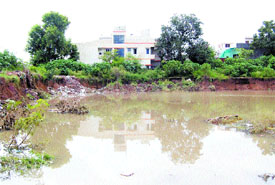 Amritsar, August 15
The controversial hotel site at Ranjit Avenue is once again a source of menace for the residents here as the huge trench dug up for the construction has been filled with water due to a downpour endangering life and property in the area. In a letter, residents of the area have asked deputy commissioner Kahan Singh Pannu to make arrangements for drainage of water.
The rain water stagnant in the 10-feet deep trench poses a threat to residents and property as it has lead to eroding of earth. — Photo by Vishal Kumar

Rain losses: CM promises relief, says Sidhu
Amritsar, August 15
The widespread damage and loss worth several crores of rupees caused due to heavy rains during the past three days in the district is to be properly compensated by the Punjab government.
Plantation Project
Rs 5-cr rose park on Sidhu's agenda
Amritsar, August 15
BJP MP Navjot Singh Sidhu has envisaged an ambitious blueprint to add 30,000 more trees in the city to maintain the eco-system which has recently gone haywire due to wanton commercialisation.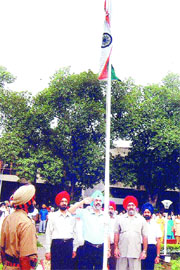 Campus Buzz
15 Aug celebrations colour GND varsity campus with patriotic fervour
Amritsar, August 15
Guru Nanak Dev University (GNDU) celebrated Independence Day on its campus with great enthusiasm. Vice-chancellor Dr Jai Rup Singh unfurled the National Flag. Students of the music department presented patriotic songs to mark the occasion. Jai Rup Singh, while addressing the university fraternity exhorted the teachers to inculcate a sense of nationalism, social and moral values among their students so that they could become good citizens.
Medical camp
Refresher course
Vice-chancellor Dr Jai Rup Singh of Guru Nanak Dev University unfurls the Tricolour on Friday. — A Tribune photograph

Independence Day
Competitions mark festivity in schools
Amritsar, August 15
The three-day Independence Day celebrations at Delhi Public School concluded today with the presentation of a Western-Indian fusion dance.
'NGOs participation can improve sex ratio'
Tarn Taran, August 15
Civil surgeon Dr Amrit Kaur has asked the social organisations to be more active against female foeticide as it may create a major problem in future.
Musharraf must quit rather than being impeached: Rashid
Amritsar, August 15
There is least possibility of the Pakistan army supporting beleaguered President Parvez Musharraf facing impeachment in both the houses of the National Assembly for his acts of omission and commission.
"Singh Is Kinng" also a hit in Pak
Amritsar, August 15
The Akshay Kumar and Katrina Kaif-starrer, "Singh Is Kinng", which has done exceedingly well at the box office in India and created a record of sorts within the first week of its release, has been a bit hit in the neighbouring country of Pakistan also.
Tree plantation on I-Day
Amritsar: The All-India Women's Conference, Sharifpura Chowk, led by outfit president Rajni Bhrany celebrated Independence Day by planting and distributing saplings. — TNS