How concrete is my Valley
Cooperative housing societies in Srinagar have come to the rescue of the residents by reducing the role of brokers in the sale and purchase of property, writes Ehsan Fazili


With the number of housing colonies around Srinagar increasing over the past couple of decades due to the growing migration from the rural areas in view of population growth, this summer capital city of Jammu and Kashmir wears a changed look.
Abid Hussain Kanth, president, Jammu and Kashmir
Housing Cooperatives Federation. Photos by Amin War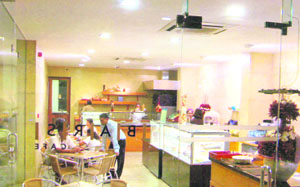 Class ceiling
False ceilings are quite
popular in hotels, restaurants,
offices, showrooms and even
residential areas, writes
Harsimrat Kaur
To lend a modern look to your room one can settle for false ceilings with ceiling lights enhancing the decor. Moreover, the airconditioner's ducts can be easily circulated within the ceiling to keep the room cool.
GREEN HOUSE
Finding flora
In the quest for finding something new for your garden, you always keep your eyes open while on the move.



Golden handshake: The unusual yellow contrasts with the red of the Simbal tree.
Concrete ACTION
Eco-friendly township in offing
The upcoming Rs 250-crore Alpha International City in Kurukshetra is being developed by the Alpha G:Corp as an eco-friendly integrated township project spread over 90 acres in Sector 29, adjacent to the town's premium residential and commercial HUDA sectors.



Oberoi group to open 10 hotels by 2011


Kamdhenu Ispat enters paint segment
Indo-German pact for urban infrastructure
Aiming at providing solution to critical problems in urban infrastructure development and capacity-building in cities, the Union Urban Development Ministry has joined hands with an international cooperation enterprise for sustainable development.
Swiss account
Infrastructure major Indu Projects has said it has received an investment of USD 77 million from Swiss banking major Credit Suisse.
Tax tips
Sale and stamp duty
Q. I have only one flat in my name, which was completed in 2007-08 by taking a housing loan in 2005-06 from a scheduled bank.

Investment issues
Lease and liabilities
Exemption benefits

Illustration by Taranpreet Kaur