Beating the heat
Cooling tales from the Raj by Pran Nevile
The heat of the Indian summers scared the English. Before the advent of punkhas and American ice in early the 19th century, the English dreaded the oppressive heat and miseries of the hot season. One of the earliest comments on the Indian summer was recorded by an English surgeon in 1774. He refers to his horrible experience of a sultry day "when not a breath of air was there for many hours; man and every fowl of the air so sensibly felt it that some species fell down dead".

A water shower to cool a gent dressed up for a ball. Drawing by Sir Charles D'oyly c. 1810.

Story of the star
Will Dunham
The first object to brighten the dark, primordial universe after the Big Bang was the tiny seed of a star that rapidly grew into a behemoth 100 times more massive than the sun, scientists have said.


Silent looms of Varanasi
Banarsi saris, once hand-woven in almost every household of Varanasi, are on their way out. The increasing use of power looms and the flood of China-made saris have left thousands of weavers jobless, report Anurag Tiwari and Sandeep Pandey
Love and beyond
It was interesting to see so many women gushing over Imroz. They love him because he loved Amrita so much, writes Aruti Nayar
For all those who think that eternal love that transcends space and time lives on only in fiction or cinema should meet Imroz, Amrita Pritam's soulmate. It was interesting to see so many women gushing over Imroz. They love him because he loved Amrita so much. Meeting Imroz is like watching a river flow gently, without turbulence and in total peace, with waves lapping the shore.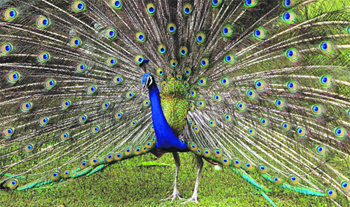 A peacock displays its plumage after a rain in New Delhi. Photo: Reuters

High on tea in Lanka
Nuwara Eliya is located in the heart of Sri Lankan hill country. Home to the famous Ceylon tea, it has many plantations, interspersed with streams and waterfalls, writes D.B.N. Murthy
There is magic in the fresh cool air. The fragrant smell of tea and spices permeates the air coming from the nearby tea estates. After hot-and-steamy Colombo, Nuwara Eliya, 'A garden city' as the Sri Lankans proudly call it, seems like a haven of peace and tranquillity.
Stars don't open up to live audience
— Sajid Khan
Host-turned-actor-turned-filmmaker Sajid Khan popularised the humour element in television shows through his unique anchoring style in the musical countdown Ikke Pe Ikka. Srabanti Chakrabarti in conversation Sajid Khan, who is hosting a weekend chat show on the recently launched channel Colours
Enduring appeal of Mughal-e-Azam
Jivraj Burman
Forty-eight years after its release, the magic of the Salim-Anarkali legend in K. Asif's magnum opus Mughal-e-Azam lives on. Released on August 5, 1960, it was the first movie ever to be produced in Mumbai at a cost of Rs 10.5 million. When K. Asif spent Rs one million on the Sheesh Mahal to picturise the classic song Jab pyar kiya to darna kya, many thought his financier Shapoorji Pallonji would go bankrupt.
Cinema as therapy
Films are being used as a tool by therapists to help patients explore their psyche, writes Shoma A. Chatterji
Can cinema reach beyond its physical limitations to cure a mental malady? In India, where psychiatric treatment is considered to be a clandestine, hush-hush affair, one cannot answer this question. A mentally challenged person is generally not spoken about in public.
Big fat reality
He is an inspiration for all under-achievers. When he wanted to cut an album he was turned away by Virgin records. When he finally came out with his remix album, MTV refused to play it.