Warrior Wagon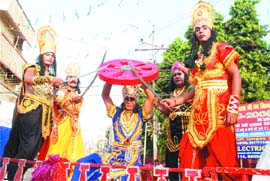 A colourful shobha yatra was taken out in the city to mark the Janmashtami celebrations. —Tribune photo by Pawan Sharma
Bankers protest privatisation move
Jalandhar, August 19
Irate over the governments move to privatisate public sector banks, scores of bank employees held a demonstration in front of the Punjab National Bank, Nehru Garden, here today. Organised by the Punjab Bank Employees Federation, the protest saw employees from different banks in the city and its vicinity raising anti-government slogans. The bankers have been opposing merger of public sector banks and outsourcing of bank works to agencies.
With Mangal, it's thoda message, thoda magic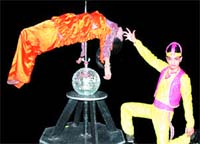 Jalandhar, August 19
Kids can get ready for some great excitement in the city. Magician Samrat Mangal Tara is in the city to hold a four-week extravaganza at Red Cross Bhavan from August 21. The prelude to the show will be a motorcycle round across the congested parts of the city by the blind-folded showman at 11 am tomorrow.
Pulling a trick: Magician Samrat Mangal Tara would be in the city for a four-week show which starts at Red Cross Bhavan on August 21.

ROB project fallout: Broken water pipes, damaged sewer lines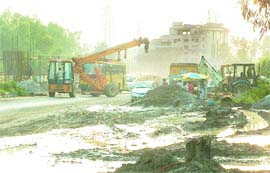 Jalandhar, August 19
The railway over bridge (ROB) from Khalsa College to Narinder Cinema, which is already a nightmare for commuters, has now become an eyesore for the shopkeepers of the area. Members of the Sutlej Market Shopkeepers Association near the bus stand are up in arms against the municipal corporation for turning a blind eye to the basic amenities in the wake of ROB construction.

The Sutlej Market traders are bearing the maximum brunt of the construction work.
Young World
Fervour marks I-Day celebrations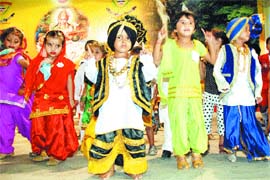 Jalandhar, August 19
The students of Mayor World School organised an inter house march past competition on August 15th to celebrate Independence Day. Keats house bagged first position. Second position was shared by Wordsworth and Shakespeare house.


School students present a cultural programme during an I-Day function in Jalandhar. —Tribune photo by Pawan Sharma