Gracy makes Punjabi film debut
Jalandhar, August 21
Punjabis just can't get enough of the "phoren maal". Roughly, half of the janata of the state, it seems, has associations with someone or someplace abroad. For those who do not enjoy any of the above privileges or crave for more anyway, the desi brigade of directors has a convenient solution. Cinema.



Actors Gracy Singh and Aarti Puri were in the city to promote their Punjabi film 'Lakh Pardesi Hoiye' on Thursday. — Tribune photo by Pawan Sharma
Action Replay
Verka jacks up milk prices again, residents fret
Jalandhar, August 21
Barely eight months after the prices of milk were initially hiked, Doaba Cooperative Milk Producers Union Limited has once again enhanced the sale price of the three categories of Verka milk by Re 1 per litre from today. The consumers have not hailed the decision of the union. They said the increase in the milk prices would disturb their monthly budget.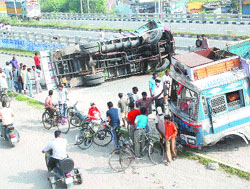 20 sheep die as truck overturns
Jalandhar, August 21
Twenty sheep were killed after a truck in which they were loaded turned turtle on the busy Jalandhar-Jammu highway at Lamba Pind, near here, last night. A caretaker of the animals who was travelling on the top of the vehicle, whoever, had a miraculous escape. The caretaker, Mumtaz, fell on the sheep after being tossed from the vehicle top.

The mishap took place on the busy Jalandhar-Pathankot highway.

'No place for Mush in Pb'
Kapurthala, August 21
The Shiv Sena (Bal Thackeray) has criticised Baldev Singh of Lohara Kotli village in Ferozepore district for his offer to provide former Pakistani President Pervez Musharraf asylum at his farmhouse.
Young World
Sadbhavana rally marks Rajiv's birth anniversary
Jalandhar, August 21
Students of the Kamla Nehru College for Women, Phagwara, took out a Sadbhavana rally from their college to Town hall on Wednesday to commemorate former Prime Minister Rajiv Gandhi' birth anniversary.
Sedate the sedition
An emotional blitzkrieg has shattered the sedateness of Jammu and Kashmir. Whole India is witnessing a bombastic volcanic eruption of the emotions of millions of Shiva devotees who have been raising their voice against the decision of revoking the land allotted for providing facilities to the Amarnath pilgrims.
Letters
Annoying stray cattle
Stray cattle on Garha Road have become a common scene and the authorities are hardly bothered to take any measures. These cows sometimes are too bothering as they sit in the middle of the road causing inconvenience to the road users.