audio scan
King-size music
Singh is Kinng
(Times Music)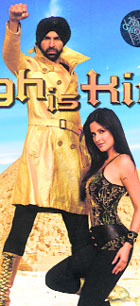 Whether it is the success of the music which is feeding the popularity of the film, or it is the other way round, Singh is indeed proving to be the king everywhere. Had this phenomenon been confined to Punjab alone, it would have been understandable. But it is playing out almost everywhere. For that composer Pritam deserves distinction marks. By the way, let it be added that he is no Punjabi himself, and that increases the value of the compositions because they are fully authentic. No cost has been spared for either the film or the music. Hiring the services of international rocker Snoop Dogg does not come cheap. Then there is also the guest composition by UK-based RDB composed by Calvin Broadus with Surjeet Singh, Manjeet Ral and Kuljeet Ral. The album opens with this title song, which also features Akshay Kumar. It is another thing that it at times reminds you of one of the Idea mobile jingles. There are 12 tracks in which six are remix versions. Hard Kaur renders Bas ek Kinng along with Neeraj Sridhar, Mika Singh and Ashish Pandit. It is thumping all the way. Neerajís voice suits Akshay Kumar admirably. Its remix by Glasgow-based Raj and Pops (called Tiger style mix) is more Punjabi in nature. Its opening synthesised rhythm is too similar to the one heard in Sukhbirís Gall ban gayee.
Bhootni ke is Punjabi to the core and Mayur Puriís lyrics lose out nothing of the sting when it is rendered in Hindi. It has been sung with gusto by Daler Mehndi but the remix by Mika falls flat.
Jee karda combines Punjabi theme with bits of western music and has been sung by Labh Janjua and Suzi Q. Note the extensive use of rarely used instruments like ektara and manjira. The remix by Hyacinth is merely a space filler.
A rather misfit in this cacophony is out and out romantic song Teri ore where Shreya Ghoshal and Rahat Fateh Ali Khan work wonders. The sarangi-dominated duet also has some piano pieces.
God Tussi Great Ho
(T Series)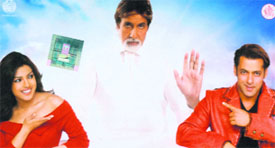 If you feel that the music of this film is a little dated, please remember that it was started some four years ago. Another reason for this d`E9j`E0 vu is that Sajid-Wajid are not too finicky about being original.
If their Letís Party is an amalgamation of Where is the party tonight (Kabhi Alwida Na Kehna) and Itís the time to disco (Kal Ho Na Ho), the other popular number Tujhe Aksa beach ghuma doon is a take on Aamir Khanís Aati kya Khandala. Since Salman Khan seems to have made up with Amitabh Bachchan, who also stars in this film, it even has the line Amitabh se tujhe mila doon in the song. It has been sung by Wajid himself along with Amrita Kak. Shabbir Ahmedís lyrics are funky.
In the remix version by DJ Amyth, the theme tune that was there in Apni to jaise taise song of Lawaris has been bodily lifted.
Whenever Sajid-Wajid and Salman Khan come together, they do use a song featuring Chunri. Here it is Lal chunariya odh li maine in which Alka Yagnik and Udit Narayan come together after ages. It has been written by Deven Shukla.
In the title song, Sonu Nigam lends his voice to Salman Khan while Shankar Mahadevan does service for Amitabh Bachchan. This song really seems to have been resurrected from the wraps. A remix version follows by DJ Amyth. ó ASC