Eleganceb sans fear
A symbol of masculinity, horses are city women's pets!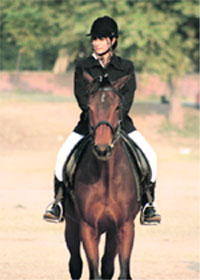 WITH panache, they hold the reins of a horse. Riding high this animal of grace and beauty, it's a pleasure to see young ladies galloping on horseback. And making the act more challenging, they not only ride the horse but also have mastered the art of a caretaker.

Rupeela Boparai atop King of Sirsi . — Photos by Manoj Mahajan

Twins Summer & Joon
with their buddies

Prabh Simran Badal on a trot with One For The Day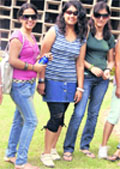 Fashion forever
Prints, styles & trends that are always in
SOME prints and styles never go out of fashion, they just stay on the backburner and return with a bang. Denims, stripes, geometrical patterns, animal prints and plain collar tees are some of them. And today when fashion changes colour in days and weeks time, we look for patterns that are evergreen and always make a style statement. — Photo by Vinay Malik





STEP OUT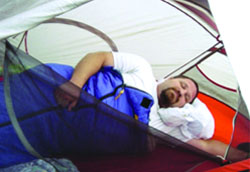 Sleeping under the stars
Being snug and warm in your sleeping bag in the mountains...
THERE is just a little over a month of summer temperature left in which you can do some hiking and camping in the mountains without having to venture too far out of your comfort zone. Once October arrives, the nights start to become bitterly cold and you also have to face lower temperatures in the mornings.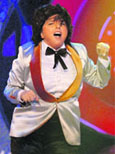 Quite a naach!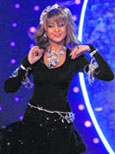 AS the competition stiffens on Zara Nachke Dikha, Tez Talwars and Meethi Churis do their best to churn out some remarkable performances. High on the entertainment quotient, this week's episode has it all with a special Flashback theme. Both teams outperform their own previous performance and are at their best.

Jennifer Winget as Helen /elnaaz does a Shammi Kapoor

Touch & Heal
For many, he is a messiah
TRUTH, sometimes is stranger than fiction but it is eternal and fears no test. Believe it or not, but city-based technocrat Virender Sharma has emerged as the messiah for thousands of patients suffering from chronic diseases. Enamoured by the belief that faith is the healing power over 200 patients on every Sunday come to the New Public School for Sharma's unique therapy.

Telly Tales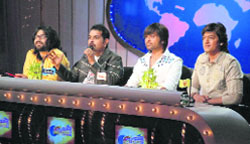 May the best singer win
Fifty per cent more music than before and hardly any drama. In the 13-year-history of Sa Re Ga Ma Pa, for the first time there has been a change in the format. Now every week, singers from all gharanas will perform and there will be four eliminations every week. This is appropriate from the SMS point of view, as the viewers will have a better tuning to the show and the participants. This decision was taken after a heated argument between the judges because the earlier format, they felt was not conducive to selecting the best participant amongst some exceptional singers. Viewers would forget about the singers from one week to the next since whoever sang in the current week would be on top of mind. Now all participants will sing over two episodes and four will be eliminated every week.
Another star's born
Firsts on Jolsha
n Victor Banerjee will make his television debut Bandhan.
n Uttam Kumar's grandson Gaurav Chatterjee will make his small screen debut with Durga. n Blockbuster Bengali films will be premiered for the first time on Jolsha.
Britney & Justin 'together'
BRITNEY Spears and Justin Timberlake's long-awaited duet may finally be recorded. According to sources, Britney will team up with her ex-lover for a song on her next album due at the end of the year. The duo were supposed to team up for her last album, but Spears, under the influence of friends Osama Lutfi and Adnan Ghalib, missed her recording session with Timbaland at the legendary producer's Virginia Beach studio last August. "She just didn't show up," said a source. Meanwhile, Spears is finally getting her life back on track. The pop icon is set to give out all the details of her crazy life in a new telly documentary.
Dancing warriors
THE reality show, Saas vs Bahu, will take an unusual test by challenging each other on the dance floor. This particular episode on August 25 is set to unveil some talented and popular personalities like Rita Bahaduri, Kittu Gidwani, Shoma Anand, Himani Shivpuri and Krutika Desai. Two teams, each comprising of 15 saas and 15 bahus will challenge each other by rolling out power-packed dance performance. The show will be aired for five days a week from Monday to Friday at Sahara One. The participants will be judged by actor, producer Aruna Irani and choreographer Longinus Fernandes. The host of the show is well known actor Karan Mehra.

Har rang kuch kehta hai...
Tinting walls in a mix of shades is the latest trend
WHITE is monotonous, grey is dull and so is crème. Combine them with an orange, mustard or a sea green, and the results are overwhelming. Transforming your home or work place into a brand new place, lends an artistic lease of life to the ambience. But, mind you, it's not an overall paint but the trend that spells elegance. "The size of the house and how the walls are treated makes a lot of difference. Earlier people would go for bright colours.
History revisited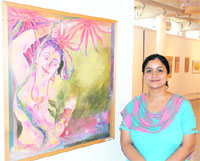 Ambalicka puts on canvas a glorious period of Buddhist history
ART has so often rendered a tangible form to our past that we simply turn oblivious to it or are simply ignorant about. From capturing customs and traditions to even physical appearances of people from the bygone era in the frames, art has wonderfully provided us the opportunities to peep into our history. In an attempt to do the same once again, Ambalicka Sood Jacob, a fine arts lecturer in Punjabi University, Patiala, has put on social culture during the time of Buddha.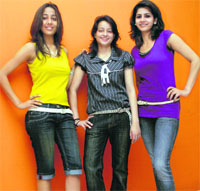 Belted to style
Make your style statement with narrow belts in bright colours that accentuate your curves
IT makes you slim and slender, a dream come true for every woman and now it is back in the epicenter of fashion. Infact, sexy singer Beyonce emphasises her curves with one of these. It is the very stylish looking narrow waist belt. Now that huge chunky belts are out of fashion, the trend has tilted towards the thinner chic versions in different material and designs. But, here's a piece of advice for the fashion freaks — not anyone can wear a narrow belt, only women who are slender (which rarely exist in real life) can pull off a narrow belt.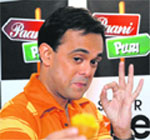 Little Interview
Humour in all colours
HE is the happy- go-lucky, Dr Sahil of Sarabhai vs Sarabhai. Man with a penchant for comedies, Sumeet Raghavan is the new face of television actors who know it all. And for those of you who don't know, Sumeet is a trained Indian classical singer, has a theatre background and a good fill of Bollywood masti. In a tête-à-tête he shares his latest passion, television, family & more…

Beauty Studio
Teenage spots at 30!
HOW we look contributes greatly to how we feel about ourselves. We all wish for a clear skin but acne strikes at all age. In fact, acne at a later age in life can be a serious problem for both men and women as it can leave scars on the face as well as on the mind, because such breakouts bring along low self-esteem and emotional distress.

Bon apetit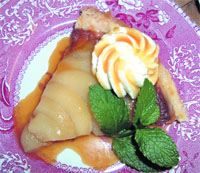 Pyaarey Pears
YOU see the big mushy variety, the small crisp ones, and impossibly hard jaw-breakers which are even called paththar naakh! But the most fascinating pear I've ever met was in the wine section of a super market in England — a whole big plump pear sitting in the belly of a narrow-necked glass bottle labeled Poire William (pear liqueur) I was baffled! Just how did the darned pear get inside the bottle? Scanning the gilded label explained it all.