Moran, the mystery woman
Author Manveen Sandhu's research on Maharaja Ranjit Singh put her on the trail of his soulmate, Maharani Moran. She shares her findings with Aruti Nayar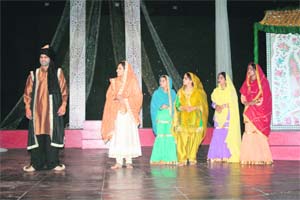 Manveen Sandhu's play 'Moran Sarkar' throws light on the life of Moran, the dancing girl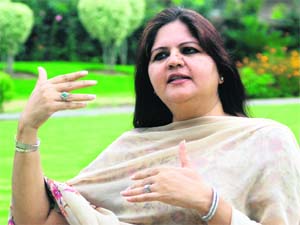 Moran deserves 'a fair representation', says Manveen Sandhu — A Tribune photograph
THE first thing that strikes one about tall and statuesque Manveen Sandhu, Principal of Springdale School, Amritsar, is her involvement with the heritage and history of Punjab. Associated with Spic Macay for more than 30 years, she wants to put heritage on the radar of school and college students. But that too takes a backseat when it comes to her preoccupation with Moran, a dancing girl who Maharaja Ranjit Singh married in 1802.
When Manveen's play 'Moran Sarkar', directed by Kewal Dhaliwal, with a cast from both Indian and Pakistani Punjab, was staged in Amritsar recently, the shadowy presence of the dancing girl in the maharaja's life had finally found form.
It was Dhaliwal who suggested Manveen write a play seeing the amount of information she had gleaned, while she herself was keen to do a historical novel on Moran. "I was impressed by the spirit of the woman who had immense dignity. A rare combination of intelligence and beauty, she was much ahead of her times."
Manveen felt Moran deserved "a fair representation". She can go on for hours narrating incidents about Moran's life based on her research from original Persian sources, thanks to her father who helped her to translate them.
Manveen, the author of Maharaja Ranjit Singh: Personalitas Extraordinaire, says: "The character of Moran played hide and seek with me while I was researching my book on the maharaja." Manveen got the feeling that here was a woman who was seeking her rightful place in history when she accompanied her son for photographic documentation of the area where Pul Kanjari is located. Pul Kanjari (or Pul Tawaif) is being conserved for inclusion into the heritage circuit for tourists who visit the Wagah border. Since it was difficult for Moran and the maharaja to meet in Lahore or Amritsar due to the opposition to their relationship, their rendezvous shifted to a beautiful Baradari situated between Amritsar and Lahore, near Moran's village, Makhanpur.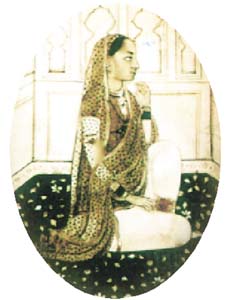 A miniature painting of Maharani Moran
The bridge got its name, according to a popular story, from an incident when Moran was coming to meet the maharaja and she lost her slipper in the Hansali canal. When she came barefoot and complained, the king promptly got a bridge constructed and it was named after the dancing girl. A dancing girl is called kanjari in Punjabi (and it is almost an abuse).
"This derogatory term in reality is a mutation of kanchani which in Persian means dipped in gold and fully blossomed. I feel it is also insulting to a woman who was not only learned, a great philanthropist and a true companion to the king."
Through his marriage to Moran, the maharaja also wanted to uplift the community of tawaifs who were social outcasts. Marriage for social integration is often looked down upon because of class and caste factors, unlike a matrimonial alliance for the expansion of the kingdom for political reasons, which is between social equals.
Moran won her way into his heart when Ranjit Singh was only 21 because she was unlike any woman he had known. She accompanied him when he went riding. He married Moran against the wishes of the entire community and despite the conditions that were laid down by Moran's father and the head of her community Mian Samdu. The community was rehabilitated in Sharifpura, near Amritsar.
Moran and the maharaja went to Hardwar for a dip in the Ganga after their marriage in 1802. The marriage incurred the wrath of the entire Khalsa Panth and Ranjit Singh was called to the Akal Takht for retribution. He was proclaimed guilty and condemned to public flogging. He bowed before the Akal Takht and accepted the punishment. He was exempted with one kora and a fine.
He never minted a coin in his own name but he struck one in Moran's name. She became known as Moran Sarkar and became a window to the common people who often brought their problems to her.
There is also a masjid in Moran's name in Lahore that was renamed from Masjid-e-Tawaif to Masjid Moran 10 years back. Manveen wishes Pul Kanjari, too, should be renamed as Pul Moran.
Deeply spiritual, Moran had a spiritual guide called Mian Jaan Mohammad of Laverian, who told her that a madrasa would benefit more people than a masjid. Manveen describes how Moran was instrumental in setting up a school for Persian and Arabic studies for students who would be spared the trouble of travelling all the way to Persia. Moran was quite capable of distancing herself from the material world which she did. When palace intrigues and machinations intensified, Moran moved away to a jagir in Pathankot. Twenty years later, the maharaja still felt there was no one quite like Moran.
Inputs provided by Fakir Saifuddin, the director of Fakir Khana museum, Lahore, and scores of previously unreferred to accounts in Persian helped Manveen's research for 'Moran Sarkar' as did Zafar Namah e-Ranjit Singh by Diwan Amarnath. The cross-border cast could get into the spirit of the script and identify with the story. Manveen feels it is rare for a director to respect the sentiments as well as sensibility of the writer and she gives full marks to Dhaliwal for doing that.