Careercature
Sandeep Joshi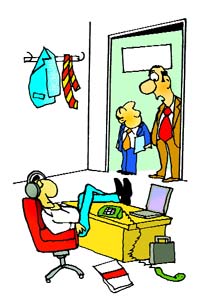 When I said make him comfortable in office, I didn't mean this !

The Beauty Business
The Rs 1,200-cr beauty business is the place to be, writes Usha Albuquerque
Who doesn't want to look beautiful? With so many young Indian girls hitting the top spot on the beauty charts, looking beautiful is just not the concern of a privileged few but has become one of the fastest growing sectors in the country. The art of looking good is turning out to be a big business as the race for looking better and different continues.
Banish Boredom
There are no shortcuts to success, writes I. M. Soni. Focus on hard work, unleash your creativity & stimulate your mind at all times
Human felicity is produced not so much by great pieces of good fortune that seldom happens as by little advantages that occur every day, said Benjamin Franklin. When Henley wrote, "I am the master of my fate and I am the captain of my soul," he was indirectly telling us that work works wonders for us.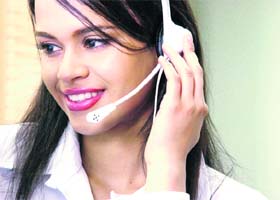 Now, it's surrogate education
A British study lauds Indian workforce's skill-set despite messed up education system
Indian companies — particularly in the IT and BPO segments — have reached a point where they can teach the world many lessons on workforce training and development, a recent study has suggested.
Do you have it in you?
The British Library in association with Chandigarh Management Association is organising Management Week from September 1 to 6 for students and working professionals.
Transforming learning into earning
Aptech has tied up with Italy's Seven Rings International to train graduates in soft skills and corporate computing skill development. Under this agreement, Aptech would be the only training delivery partner for participants of Seven Rings International in India.
Thank god for small mercies!
Despite the continuing global economic slump, salary hikes will be insulated for 2009
A study conducted across 150 leading Indian companies by Hewitt Associates to understand the impact of economic slowdown on compensation and salary trends in India has found that in 63 per cent of the organisations surveyed, inflation and rising input costs were prime movers in salary increase budgets for 2009.
Bad news for IT professionals
Surging inflation will soon start reflecting onto the pay packets with the companies looking at cutting down the salary hikes of their employees for the next year and the high-flying IT space could take the maximum hit.
COURSE CHAT
Infrastructure management
S.C. Dhall
The Sikkim Manipal University has launched a course in infrastructure management Services (IMS) — first of its kind in the would in collaboration with Indian Institute of Hardware Technology.
NAC to train 50,000 workers
S.C. Dhall
National Academy of Construction (NAC) has planned to train over 50,000 workers engaged in constructions activities and related tradesacross the country , The NAC which has its Head Office Hyderabad and six regional centres in other parts of the State.
Career Hotline
Pervin Malhotra

Research route

The learning curve

For the people

Language matters

Name matters

Math & English rule