Is big always better?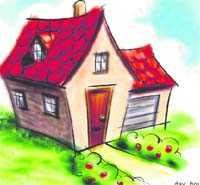 Not in the pursuit of happiness, says JAGVIR GOYAL.
A large house is unsuitable for nuclear families. Get realistic, be practical and if need be, rework your house dreams
EVERYBODY dreams of building a house of their own. For most Indians, it is the ultimate dream. A city is zeroed in upon, a layout is in the mind and an imposing elevation with curves and slopes is chosen. And then comes the moment when itís time for the dream to take off. Two things are required: Time and money.
Another first for Gurgaon:A 450-acre township
SYNONYMOUS with residential colonies till now, Gurgaon is set to break away from the trend. Soon, it will get its first-ever integrated township spread over 450 acres.To be developed by Ramprastha, the township would boast of all modern amenities and infrastructure like schools, hospital, hotel, shopping mall, multiplexes, club, post office and even a temple.

GREEN HOUSE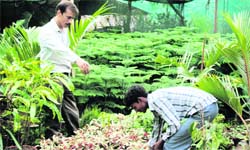 Itís now or next year!
Monsoon is the best time to raid the local nursery to pick from fresh arrivals, writes Satish Narula
AVID gardeners are mostly aware of weekly, monthly or yearly operations, but amateurs, please pay attention: This is the only time of time of the year you must visit a nursery to buy plants. It is not that you do not find plants at other times, but during monsoon, almost all nurseries get fresh supplies.
REALTY BYTES
Luxury to get a new address in Ludhiana
The MBD Group has formally signed up with Radisson International for its Ludhiana venture slated to come up later in 2008. MBD Neopolis, Ludhiana, is the first ever mixed use development having a shopping mall, multiplex and five star hotel all under one roof. Owned and managed by the MBD Group, it brags of the best retail and entertainment mix in the city.
Ground Reality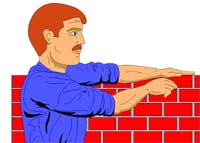 PROPERTY sales have fallen more than 35 per cent this year in many cities and the NCR and Mumbai, mainly due to a rise in home loan rates and unaffordable realty prices, thereby limiting execution capabilities of developers. Similarly, property stocks have fallen up to 50 per cent from their peak in January this year
Echoes of the economic slump are being heard loud & clear in the real estate segment
Realtors seek greener pastures
S.C. Dhall
IN what may be termed as a tell-tale sign of the slump in the domestic property market, real estate developers are switching gears and eyeing overseas markets. Leading the pack is DLF, the countryís largest real estate developer. According to its chairperson K.P. Singh, the property developer may build houses in Singapore and Malaysia, which have a large Indian population. Down but definitely not out, he said that in the meantime DLF would use cost-effective resources and work at higher levels of efficiency to beat the slump.
Few takers for luxury housing
luxury housing Portal makaan.com, which has been keenly observing site activity across cities in the country, observed that in Chandigarh, the demand for properties above Rs 75 lakh grew least from March to July 2008. As compared to a 47 per cent increase in demand for properties in the Rs 20Ė75 lakh segment, the demand for housing in luxury segment (above Rs 75 lakh) has risen by only 18 per cent.