Punjabi antenna
Able producer, good anchor
Randeep Wadehra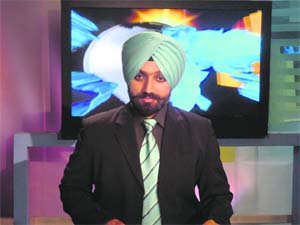 Davinder has left an enduring stamp on public memory by producing some memorable talk shows
IT is not often that an able producer is also an excellent anchor. Results of such a combination are usually remarkable, as indicated by Lok Bani on PTC News, which highlights administrative lapses relating to maintenance and development in different towns and villages of Punjab. The episodes relating to Sangrur and Ferozepore districts impressed with the unrelenting interrogation of local MLAs on such issues as bad roads, absence of basic amenities in residential areas and officialdom's apathy to hellish sanitary conditions in various localities and public/commercial areas.
The show's producer-anchor, Davinder Pal Singh, is meticulous in collecting relevant data, incisive without being offensive while putting rather uncomfortable questions to politicians and bureaucrats alike, and immensely communicative—without being verbose—while interacting with the plaintive public. These qualities have stood him in good stead in coming up with memorable biopics and documentaries on Bhagat Singh (Talash Bhagat de warsaan di—one hour documentary), Udham Singh (Raam Mohammad Singh Azad), Shiv Kumar Batalvi (`A0Asa taan joban rutte marna), Nanak Singh (Punjabi novel da sartaaj) and Maharaja Ranjit Singh (`A0Sher-e-Punjab).
His productions on crime—Pen drive da khulasa, Chahal da mahal, Khatta Singh de khulaase and Virk, arsh ton farsh tak are considered path-breaking in Punjabi television. Apart from interviewing Bhagwant Mann and the late Sahib Singh Verma on Face to Face, Davinder has left an enduring stamp on public memory by producing such talk shows as Peed pardesi hovan dee, Dera issue disco (with Tarlochan Singh), 1857 Asal shuruaat, Kinne azad haan asin, Sensex & you etc. The list is by no means exhaustive. Davinder is still young and, given his achievements, is destined to go places.
Looks like Punjabi news channels are getting aggressive. A few days before the notes-for-votes sting burnt the small screen to a frazzle, an inveterate team of PTC News journalists led by Ritesh Lakhi exposed shocking chinks in the nation's security apparatus on the Indo-Pak border. Flouting standing orders, BSF personnel not only carry cell phones to the border but are also lax in preventing civilians from carrying these to the prohibited areas. When questioned, the top brass either feigned ignorance or flatly denied any such occurrence.
In the same sting operation the PTC News team came up with another shocker: it is possible for anybody to acquire SIM cards without providing any documentary evidence of one's identity, residential address etc in the border town of Ferozepore. In these days of remote controlled (usually through mobile phones) blasts and tech-savvy international terrorist networks, this sort of quick-buck mentality on the part of SIM card sellers and service providers should be treated at par with high treason. But our officialdom merely indulged in buck-passing when confronted with irrefutable evidence. One hopes that someone in the higher governmental echelons had watched this show.