Bronze heroes
Their humble origins did not stop Vijender and Sushil from winning medals at the Beijing Olympics
Raman Mohan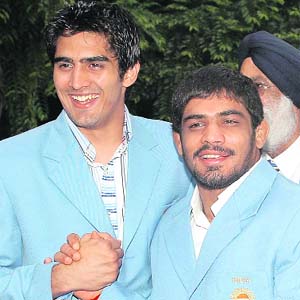 Vijender Kumar nearly missed going to Beijing due to two shocking losses in the qualifying rounds. At the Chicago World Championships he was knocked out in the second round. Another stunning second-round loss in the first Asian Olympic Qualifiers added to his woes. Vijender was also suffering from a stiff back at the time. But urged on by his coach G. S. Sandhu, Vijender soon regained form and won a gold medal at the second Asian Qualifiers.
It goes to Vijenderís credit that in a career spanning eight years these were his only losses. Otherwise this 23-year-old strapping pugilist has had a dream run in the sport.
Born at Kaluwas village near Bhiwani in Haryana, Vijender was introduced to boxing by his brother Manoj who was also good boxer. Vijender did his schooling at the village school and then went on to get his bachelorís degree from a Bhiwani college.
His father Mahipal Singh is a bus driver. The family lacked the resources to support his boxing career. But the Bhiwani Boxing Club (BBC) made his dream possible. When Vijender began practising at the SAI boxing facility coach Jagdish Singh spotted his talent and encouraged him to take up professional boxing. Vijender went on to win the silver medal for two years in succession at the sub-junior nationals.
At the BBC he also found his mentor Akhil Kumar, another boxer from Bhiwani who made it to the quarterfinals at the Beijing Olympics. Vijender treats Akhil, his guru bhai, as his idol. "But for Akhilís tips and motivation and my coachís help, I would have been loitering with street urchins at Kaluwas," said.
After his victories at the junior level, Vijender was soon playing in the senior category when he was just 18 years. At the Athens Olympics he competed in the welter-weight (69 kg) category but lost in the first round. He soon bounced back and won a silver medal in the Melbourne Commonwealth Games in 2006. The boxer followed this up with a bronze at the Doha Asian Games and a silver at the Kingís Cup. Vijender added another silver to his kitty of medals at the Asian Championships later.
Vijenderís rugged looks have found him a place in the modelling world, too. He was featured on the cover of menís fashion magazine Maxim. "Yes, I want to model but not at the cost of boxing which will always be my first love," he said after his return to India from Beijing. His pin-up looks have earned him a following of female fans.
Vijender plans to resume his boxing sessions under coach Jagdish Singh and his idol Akhil Kumar soon. He counts fellow boxers Jitender Kumar and Dinesh Kumar among his closest friends. The foursome can now look forward to better amenities.
This bronze medal winner, along with other world-class boxers, has become a source of inspiration for younger boxers at Indiaís "Little Cuba", which is now be charged up and ready to train more talent for future international contests.