TELEVISTA
Big let-down by DD
Amita Malik

IT is a pity that just because Doordarshan is a government organisation, it is given the duty to cover top international events. In the case of the Olympics, it was not merely a question of pronouncing the word Olympic as 'Olumpic'— as many commentators did on DD. But as a responsible channel, which is supposed to set standards and act as a role model, one expects better from it.
Some anchors on the channel also went on to pronounce Jamaica as 'Jamai-ka,' as if the country was its son-in-law, and Nigeria as 'Najeera', which made it sound like the Indian spice, zeera. However, pronunciation apart, for an official organisation, Doordarshan's breach of protocol was unpardonable. When the Olympic flag was being lowered, a very solemn moment, DD rushed in a flurry of advertisements.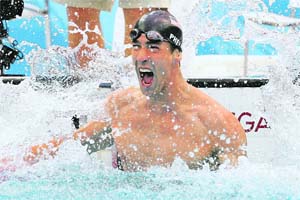 During the Olympics, DD's producers kept on cutting off events at vital moments to shift the focus to the middle of some other event.
Its commentators also talked through the national anthems of the various participating countries when everyone on the spot, and there were thousands, maintained silence. But worst of all was the way DD's producers, if any, kept on cutting off events at vital moments to shift the focus to the middle of some other event. Its commentaries were trite in the extreme and at times so boring and, therefore, distracting that I cut off the sound and decided to draw my own conclusions.
Why do we fail at such crucial moments on such important occasions? The main reason is that Doordarshan has never bothered to train its commentators. They are supposed to be born, not made. Because
it enjoyed monopoly for years, DD did not bother to keep
up any standards because it not have any competition. One always wants to switch over to some other more professional channel.
Unfortunately, one cannot do this if DD has the monopoly of a sarkari event, or some event allotted to it by the government. So one is doomed. Once upon a time DD, or at least AIR, had a staff training school. I remember lecturing for years on the art of interviewing. Well, DD's chief interviewer is nothing short of—to use a terrible phrase—a pain in the neck. No amount of planted praise of his great prowess takes away from the fact that his conversation, pauses and elaborate hand movements are so contrived, and, therefore, predictable that the entire conversation becomes a bore.
Add to that the fact that he gives himself more time than the personality he is interviewing, and the whole idea of his inducing the personality to treat us to his expertise is lost. This idea of talking more than the interviewee also reminds one of TV's book review programme, where the interviewer says it all, with copious quotations from the book, and then leaves the personality with no alternative except to nod his head in assent.
I talked of training. Let us not forget that when NDTV started, Prannoy Roy flew out professional trainers from London, from the BBC and ITV to train his first group of newscasters and anchors. That is why Vikram Chandra, Barkha Dutt and others of their generation are so professional. Standards have slightly fallen because the newcomers are possibly locally trained but they are still a cut above Doordarshan's flounders.
Perhaps DD, smug in its babudom, does not realise how many viewers it has lost down the years, its main viewership being terrestrial. But again, being a sarkari organisation, I suppose it makes no difference whether there is accountability or not. For it is only in a channel where TRPs matter, due to its standards rather than lack of them, that accountability makes such a vast difference. Since viewers have the choice of switching off as well as getting addicted to better channels of their choice, they can let Doordarshan wallow in its own juice, though it makes no difference to the latter.