'ART & SOUL
Where money will take us all
The world of art appears increasingly to be wrapped in a number of scandals, says B. N. Goswamy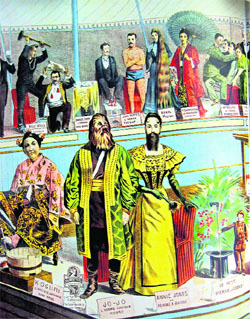 "Marvels and Curiosities from all over the World". Poster of a 'Side Show' of the Barnum & Bailey Circus. Early 20th century
Like nearly everyone else, I continue to be intrigued — alarmed? puzzled? thrown into disbelief? — by the staggering rise in prices of works of art, especially contemporary works, across the globe. But, remorselessly it seems, the market keeps marching on and up, leaving one watching, jaws dropped. What is worth watching at the same time, however, is also the astonishing — corresponding? —rise in the number of scandals that the world of art appears increasingly to be wrapped in. Each time you look a little beyond the naturally absorbing stories of how much whose work is fetching, you stumble upon some unsavoury fact, some scam or the other, which might not be related directly to the case in question, but comes from the same stable, so to speak. The scene is murky, for it is a no-holds barred situation.
I am a regular reader of that much-respected English publication, The Art Newspaper, which arrives every month on my table, filled with "news, events, politics, business", all centring upon art. And I am inclined to do little else in this piece than to cite, in brief excerpts, some of the stories published in any one issue of that publication. Say, an issue of April 2008. I might, in parenthesis, add just a bit of information to provide the context of the news/information-item; but, for the most part, I shall quote directly from the publication. Consider the following:
"Guardis seized by British police following request from Italy", runs a headline on the front page of that issue. (Francesco Guardi was a well-known 18th century Italian painter whose landscapes and festival scenes go now for fancy prices. Italian law requires that an export licence be obtained for works of art 'of importance' before they can be shipped and sold abroad, and no such licence was taken for Guardi's works which fall in that category.) "London. Two Guardi paintings have been seized by Scotland Yard in London, The Art Newspaper can reveal", the item reads. "Worth over 10 million pounds, they are among the artist's greatest Venetian scenes. It is alleged that they were recently exported from Italy without their true importance being disclosed. A source inside the Public Prosecutor's Office in Rome confirmed that the London seizure took place at the request of the Italian authorities`85."
"Show and Sell: Sotheby's announces auction of Chinese art just two days after museum display", the second headline on the front page of the same issue shouts aloud. (Collections are meant to be long-term collections, and it is most unusual to put them up for sale in unseemly, almost immoral, haste, especially when the best possible scholars have written on the collection in the belief that it was likely to be donated to a museum and there were no hidden financial interests involved.) The item opens thus: "London. A collection of Chinese contemporary art unveiled to the public at the Louisiana Museum in Denmark, in 2007, published in two glossy catalogues partially funded by the institution and with contributions from leading scholars in the field, and then sent for display to the Israel Museum in Jerusalem earlier this year, has now been consigned for sale at Sotheby's. It is to be auctioned in Hong Kong this month`85." The story continues with many details about how "additional partners were brought in, and the collection became an investment vehicle." Also that Sotheby's has now "an ownership stake" in the collection.
"An exhibition to die for — literally" is the headline of another, shocking story. "London. The German artist Gregor Schneider is planning the ultimate performance piece: showing a person dying as part of an exhibition. 'I want to display a person dying naturally in the piece or somebody who has just died', he told The Art Newspaper. 'My aim is to show the beauty of death.' The artist says that Dr Roswitha Franziska Vandieken, who runs her own private clinic in Dusseldorf, has agreed to help find volunteers who are willing to die in public in the name of art. `85'I am confident that we'll find people to take part', says Schneider`85."
"Another Banksy print fraud comes to light: the publisher of the artist's works on paper issues warning over forgeries". (Banksy is a now-famous, 'pseudo-anonymous' graffiti artist, known for his satirical works. No one is able to state with certainty who Banksy is, or where and when he was born, but he has acquired quite a reputation through his subversive work.) "London. Just months after we revealed that unauthorised prints by the anonymous graffiti artist Banksy were being sold on eBay, another fraud involving the sale of the artist's editioned works has come to light. On 6 March, Pictures on Walls (POW), the company which publishes and sells the artist's works on paper, emailed members of its mailing list warning that 'It has come to our attention that a number of forged Banksy prints are currently in circulation`85."
One can go on reproducing other pieces and news-items from this very issue. But let me conclude this melancholy catalogue of frauds and thefts and amoral intentions with an item that appears nearer home. For it involves works by the Indian artist, Souza.
"London dealer forced to return Souzas", runs the headline of a four-column spread on an inside page on which another item speaks of a "Seurat sketch seized by French police". The Souza piece runs like this: "Aziz Kurtha, an Indian lawyer and art dealer based in London and Dubai, has regained ownership of two works by the late Indian artist Francis Newton Souza, from a London dealer, Michael Marks. Dr Kurtha says the works are worth 350,000 pounds. `85Dr Kurtha, who owns a collection of over 200 works by Souza, said, at some point in the 1990s, some of these were stolen, either from his London home (which was rented to tenants) or from a Pickfords storage warehouse`85."
Where, one wonders, does one go with all this, or things like this? It is not that wonderful things are not happening in the world of art today: significant works are being produced, great new institutions are being founded; lavish donations are being made to museums, and so on. But then, there is also this dark streak running along the side. Where, if at all, will this end?
Finally, what does one use to 'illustrate' — if that is the word — this bizarre situation? What I have chosen is a century-old poster of a 'side show' of the famous Barnum & Bailey circus, touting 'marvels and curiosities', and 'abnormalities' such as "fat ladies, giants and midgets, armless wonders, and four-legged girls; illusions and magicians; automatons and curious inventions".