Helpful manual
Roopinder Singh
Indian Garden Flowers: Home Gardenerís Guide
by Amarjeet Singh Batth.
Prakash Book. Pages 212. Rs 495.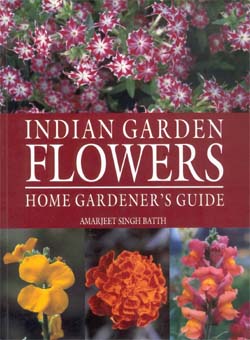 A former Army officer, Amarjeet Singh Batthís offering is "an amateur gardenerís handbook for identification, propagation and care of garden flowers". This subtitle sums up the book quite well. The authorís academic grounding in biology obviously lends the book a scientific gravitas, and his keen photographic eye is evident in the colour pictures that are extensively used.
You start with designing your home garden, find out about selecting the annual, go about setting up a nursery for raising plants and transplanting the saplings in the garden ... it is quite a journey to be a gardener, as this reviewer is finding out.
We can all do with tips on how to take care of plants, which manures and fertilisers to use, etc., and many would love to grow flowers in pots. This book is more in the nature of a practical manual, and it gives quite a through listing of flowers, their botanical, family and common name, and the months in which the seedling is to be raised or the sapling transplanted. Details like the planting distance, height of the plant, flowering month, soil, sunlight and irrigation required, make it easy for the amateur gardener to make his selections.
The tips on designing a garden are quite handy and a monthly garden reckoner reminds you the things that need to be done. This book lives up to its title.