Food talk
Bamboo blast
This fastest growing grass can be gourmet's delight, writes Pushpesh Pant
Long years ago, there used to be a famous shop — M/s `A0 Harnarain Gopinath — selling pickles and preserves in the heart of Connaught Place in the Capital proudly proclaiming, 'by appointment to the President of India'.
That is where we had first encountered baans ka murabba. For a child, it was difficult to come to terms with the 'oddity'. Bamboo was something that was devoured by elephants, not human beings. One had not yet been exposed to the Chinese delicacies and bamboo shoots remained undiscovered.
Then in school prescribed readings included the description of India by the Greek traveller Megasthenes who talked of people who squeezed and sucked honey from bamboos but that was sugarcane. Decades later, Farouk Miyan of Bawarchi Tola Lucknow prepared a delightful baans singhare ka qorma during the food trials for the launch of Delhi ka Aangan at the Hyatt Regency that combined bamboo shoots and water chestnuts. Now that was a complicated concoction.
Freshwater chestnuts were 'deconstructed'— shredded — then delicately moulded back in their original shape before deep-frying. Then only the plebeian produce from countryside ponds was considered worthy of the nawabi palate.
The bamboo received a similar beauty treatment — the shoots were sliced very fine and lightly fried. The creamy gravy was ittr-laced. The dish was rich and exotic but left us cold as neither ingredient was recognisable. This was one of those witty recipes that come in handy in culinary quizzing to embarrass those with gourmet pretensions. For us, a simpler salan has always been far more satisfying.
All these old memories flashed through our gluttonous mind when a scholarly friend recently lectured about the National Bamboo Mission. As he waxed eloquent about the tensile strength of this fastest growing grass in the world and presented a slide show of houses, furniture and even awe-inspiring bridges constructed with bamboo, we drooled recalling many delicious dishes the bamboo spawns.
It was not long after that we saw a small packet of bamboo shoots on the shelf of a food mart and need we add that the temptation was irresistible. Till some time back, bamboo shoots were rare — available in tins and drenched in brine drowning their taste. Now things have changed and you can enjoy the bamboo much beyond its natural habitat.
Baans ka salan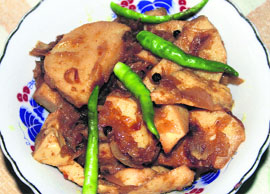 Ingredients
Bamboo shoots 200 gm
Onions (sliced fine) 200 gm
Haldi ˝ tsp
Dhania powder 1 tsp
Zeera powder ˝ tsp
Green chillies (deseeded and slit lengthwise) 2
Oil 1 tbsp
Salt to taste
Method
Rinse the bamboo shoots well — many times — to remove all traces of brine. Slice into bite size pieces. Heat oil in a pan and add the onions to it. When the onions are translucent, put in the bamboo shoots along with the powdered spices. Stir-fry for about two minutes. Now add half cup of boiling water and let it simmer — uncovered — for about five minutes. Garnish with chillies.