New serial on Gandhi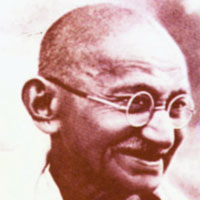 The UTV will co-produce its first Hindi daily serial on Mahatma Gandhi in association with Smriti Irani.
Describing it as an epic effort, UTV said the drama series would seek to tell the life-story of Gandhi and his incessant search for truth.
"It is for the first time that an Indian production house is planning a project for worldwide audience. Discussion with the US and the UK broadcasters to telecast the show on their channels are in the pipeline," Ajit, COO of UTV television said.
"Mahatma Gandhi was a husband, father and a family man. Though his sacrifices have been chronicled on screen before, we would like to highlight the sacrifices made by his family, a story largely untold," Smriti Irani said.
"We will also shoot on the actual locations to make it look more authentic," she added.
"Gandhi has been one of the greatest political leaders and thinkers of the 20th century. We would like to encapsulate the era with great dignity, panoramic sweep and excellence in production," Ajit said, adding the cast and crew will be announced later. — PTI