Who's afraid of RGV?
Ram Gopal Varma has been a key influence in ushering in the trend of 'multiplex films' with unconventional plots, low budgets and high returns. Derek Bose on the filmmaker who is back with his latest release Phoonk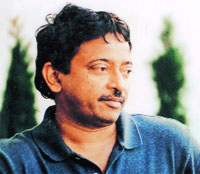 What is it about Ram Gopal Varma that gets people uptight? Nobody I know has met the man and come out with a kind word about him. Varma takes pride at being unfriendly and maintains that all "relationships" are need-based. He trusts nobody, is pathologically selfish, cagey and conceited and can be horribly nasty. In short, he is not a nice person to know.
On a professional level though, there are many with a grudging admiration towards him. Varma is without question Bollywood's most prolific filmmaker and an important power centre, though his clout has diminished considerably in recent years. At one time, the gates of his production company, The Factory used to attract hordes of film aspirants, looking for a break. That was when Varma was on a roll and many youngsters like Rajat Mukherjee (Road), Shimit Amin (Ab Tak Chhappan), Prawal Raman (Gayab), Saurab Narang (Vaastu Shastra) and Sriram Raghavan (Ek Hasina Thi) got to direct their first films under his banner.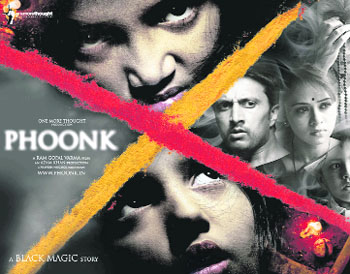 Ram Gopal Varma has announced a prize money for anybody who can sit through a screening of Phoonk all alone
The Factory has since shut shop and Varma is now operating from another commercial complex close by. He has become circumspect about encouraging new talent, much as there are enough untried actors and technicians floating around, willing to work for him for free. Like a shrewd businessman, he exploits them for small, non-star projects such as Contract and Phoonk which require low outlays and guarantee quick turnarounds. For bigger projects, he likes to piggyback on the Bachchans, as he has been doing for the past three years with Sarkar, Nishabd, Aag and Sarkar Raj.
The picture that emerges is of a loner who is enormously resourceful but vain and opportunistic and believes in playing by his own rules, regardless of the consequences. Clearly, it is this wild streak of a maverick that has done Varma in. For, there can be no denying that he understands cinema — both for its aesthetic and commercial possibilities — better than most others.
Every film he directs bears his unmistakable stamp, be it in the manner of unfolding a plot, the use of sound and silence, the orchestration of light and darkness and most significantly, the elimination of superfluous props like songs and female characters. Furthermore, he has been a key influence at ushering in the trend of 'multiplex films' with unconventional plot lines, low budgets and high returns.
As an entrepreneur too, Varma's contribution to Bollywood has been remarkable. Long before the Aditya Chopras and Karan Johars appeared on the scene, he was the one to experiment with new strategies in film promotion. He introduced concepts like hedging bets and spreading of risks across multiple projects. He was the first to use mobile telephones as a marketing tool (remember Bhoot?). Now, he has announced a prize money for anybody who can sit through a screening of Phoonk all alone. Practical or not, such promotional gimmicks are sure attention grabbers and assures a film of immense mileage. The point is, for a filmmaker so smart, innovative and with so many aces up his sleeve, how come his films fail repeatedly at the box-office? This is the question all of Bollywood is asking today.
A look at his most controversial work, Aag would place matters in perspective. Anybody who has watched the film could not have missed the jerky camerawork, discordant sound track, rapid cuts`85 elements that disturb and distance the viewer. But that is all at a superficial level. On a closer look, it would appear that the way Varma paces the film, delineating each character in the interplay of good and evil with specific colour tones, sound textures and other effects holds valuable lessons for any student of cinema. Such attention to detail and yet appearing breathlessly cavalier would do a Quentin Tarantino proud.
Where Varma went wrong was when he (foolishly) invited comparisons with Sholay, Bollywood's iconic film. Aag could well have been projected as stand-alone film, the way Ramesh Sippy did with Sholay, even as it was common knowledge that the inspiration came from Five Man Army and The Seven Samurai.
Today, Varma comes across as a mad genius who has become so conceited and self-absorbed that he is no longer sensitive towards the tastes and sensibilities of his audience. He lacks the humility of an artiste trying to reach out to the masses. It can also be argued that Bollywood itself has changed so much in the past few years that it has no place for a non-conformist like Varma. To make matters worse, he is still perceived as an outsider — a Telugu-speaking upstart from Vijayawada who has come to make a fast buck in Bollywood.
There are also many who believe that Varma, for all his talent and audaciousness, is somewhat ahead of his time — that films like Darna Zaroori Hai, Nishabd, even Aag (not to mention Daud, Mast and Jungle which had come a cropper earlier) would work out well on a re-release four or five years later. After all, these are films made in the finest traditions of post-modernist cinema.