TELEVISION
Inside the body shops
The demand for organ transplants is enormous and each day, dozens of people die, waiting for donors. The demand has given rise to cutting edge scientific discoveries as well as a global black market in body parts. Inside the Body Trade on Sunday at 8 pm on the National Geographic Channel takes viewers from American medical centres to the shady world of body brokers to unearth the disturbing truth. Where do these 'spare parts' come from? How are they trafficked? And how far are people willing to go to get what they so desperately need? The answer is both surprising and shocking, reveals this gripping investigative report.
Destiny's child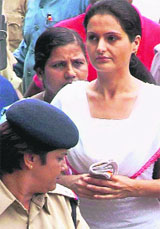 From police custody to Big Boss, Monica Bedi has come a long way
It is the story of a bubbly 18-year-old girl having the mental ability of an 8-year-old kid. Aathvaan Vachan... Saath Vachano Se Badhkar (Monday to Thursday) at 9 pm on Sony Entertainment Television revolves around Urmi who has stopped growing mentally. She only bonds with her elder sister Manali. This relationship forces Manali to refuse marriage proposals. The narrative takes a twist when Aadesh marries Manali and promises to look after Urmi as well. His family is shocked by Aadesh's decision. While life for Urmi continues to be fun and games at her sister's sasural, fate has other plans. Manali suddenly dies leaving Urmi in Aadesh's care. The two find themselves in an unusual situation. How they face life is what this daily soap is all about.
Twists behind Big Boss
The TRPs of Big Boss are being given a boost even by those who were rejected for the show. Those rejected included actor Faisal Khan, who alleged that his brother Aamir Khan had gone out of his way to blight his chances of participating. Ramdas Athawale, president of the Republican Party of India, too, was rejected. His supporters attacked the office of TV channel Colors airing the reality show. Starlet Monica Bedi and politicians Rahul Mahajan and Sanjay Nirupam were few of the participants of Big Boss. —NF