M A I N N E W S

A Tribune Special


Fake Currency — I
The very real problem of counterfeit notes
Man Mohan
Our Roving Editor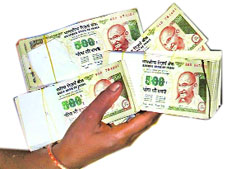 Good fakes are just as good as the real ones, right? Well, one would say this on seeing the latest series of fake Indian Rs 1000 and Rs 500 notes in circulation. They seem to have been printed on the same security paper and have security features that only government security presses can provide. The racket reminds you of the massive Telgi stamp paper scam. When news came of a Reserve Bank of India team finding fake Indian currency worth lakhs in the State Bank of India's chest at Uttar Pradesh's Domariyaganj branch near the Nepal border recently, someone wondered whether the government had involuntarily privatised banknote printing.
Unofficially, government sources claim that fake currency in circulation is worth almost Rs 1.7 trillion. Although the government does not admit this, the menace of counterfeiting seems to have forced its hand. On August 28, it decided to phase out Rs 1000 and 500 notes of the 1996 series and replace them with the new ones of the 2006 Mahatma Gandhi series, with added security features. The phasing out may be extended to other currency notes of the old series as well. The RBI investigations at Domariyaganj have finally found fake currency worth Rs 3 crore. In all, the chest, in which the fake notes were found, contained Rs 184 crore. This bank transacts about Rs 1 crore a day, providing a field day for gangs operating in fake currency.
This was the first time that a public sector bank was found to have been used to systematically push counterfeit currency into the open market. Certainly, a genius was at work "to use a government window to hand over customers fake money." It reminds this correspondent of a New Delhi businessman, who used to keep black money worth crores in a public sector bank's strongroom during the night with the help of the bank manager who was a friend, and take it out before the bank opened for business next morning. His luck ran out when an Income Tax team raided the bank at night.
India's domestic and foreign espionage agencies-IB and RAW-long back reached a conclusion that Pakistan's espionage agency, the Inter-Services Intelligence (ISI), continues to be the main force behind the printing and distribution of counterfeit Indian currency.
During the 2007 conference of the Director-Generals of police, organised by the Intelligence Bureau, everyone expressed concern about the spread of fake currency. The participants were told that security agencies had seized fake Indian currency worth over Rs 100 million, described as the proverbial "tip of the iceberg."
The quality of latest fake notes surprised a North Block official so much that he jokingly commented, "It seems the fakes have been printed in the same press where we print our genuine notes."
Sources claim that 20 per cent of fake currency is padded in most land-related transactions that take place in black. India is expereiencing an 'overheated' economy, the currency transactions are at a feverish pitch, making the circulation of counterfeit currency easy.
Counterfeit currency has a close link with terrorism. The terrorist and even intelligence organisations generate funds from smugglers' network and through the printing of counterfeit notes of an enemy country. Pakistan is said to be "fighting the proxy war in India, with Indian money". It also serves the purpose of destabilising the Indian economy, surplus money in the market shoots up inflation. Is the ISI contributing to India's rising inflation that is touching the 12.40 mark?
The intelligence agencies estimate that the ISI is pushing over Rs 15 to 20 crore annually to fund terrorist and other activities in India's commercial capital, Mumbai, alone. One can guess what would be the ISI's budget for the whole of India.
A poor nation, Pakistan requires huge resources to run its operations in India. The ISI is also using the network of counterfeit currency operators to mop up genuine banknotes needed for use in sensitive operations, where there is no scope for getting caught merely for possessing fake money.
The counterfeit currency smuggled in by air, land and train is handed over to local agents for distribution. These agents exchange the notes with genuine ones at a discount ranging between 30 and 40 per cent. The genuine currency is then used to finance the terrorists, spying networks and agents working for different organisations like SIMI.
Fake currency, mainly comprising Rs 500 and 1000 notes, has also emerged as a big business for the mafia dons based in India, Pakistan, Dubai, Bangladesh, Kathmandu, Kuala Lumpur and Bangkok. Some small-time enterprising criminals are also printing counterfeit notes to become rich overnight, but the quality of their "product" is not so good.
The "ISI is the king" in this lucrative business. It is said to be the major facilitator for getting counterfeit notes printed in Quetta (Balouchistan) and elsewhere, and making them available to different channels. The ISI is reportedly buying special banknotes, security paper and ink from London and other European sources.
The profit margin in the "business" of counterfeit currency is mind-boggling and so huge that even the Ambanis and Tatas will feel jealous. In Dubai, three weeks ago, on a tip-off by an Indian intelligence agency, the police arrested "an Asian gang" that was searching for brokers to distribute fake but "high quality" Indian currency worth Rs 2 million in the UAE for about $16,339 only.
The UAE, especially Dubai, where a large number of Indian migrants live, continues to top the list of cities from where counterfeit currency is being smuggled into India. Earlier, Dubai was known as a smugglers' haven for procuring gold and electronic goods.
The UAE ranks high on the EU's list as a top transit route for fake goods, mainly made in China. The global trade in fake goods, including drugs, garments, liquor, perfumes and toys, is running at some $200 billion a year, and fake currency operations are just a fraction of it. Small amounts of fake currency are also smuggled in by Bangladeshi nationals through India's porous eastern borders from places like Murshidabad and Bashirhat. Still, the larger quantities arrive from Dubai, Kathmandu, Bangkok, Kuala Lumpur, Karachi, Lahore and Dhaka.
It is our "neighbourhood ISI"-using all possible channels-smugglers, underworld gangs, terrorists and general air/rail passengers (travelling in the Samjhauta and Thar Express between India and Pakistan) to push fake money into India.
It appears that the making of counterfeit Indian currency notes has become an industry in itself. The fake banknotes could almost qualify for the "ISI stamp," the mark of quality!
(To be concluded)