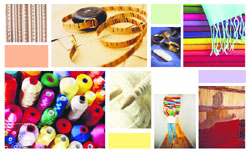 Designs on textiles
Textile technology is buzzing as domestic manufacturers are on a modernisation spree, writes Usha Albuquerque
FROM Benarasi brocades to Kutchi mirror work, Kanjeevaram silks and Rajasthani block prints, Indian textiles have been admired for centuries. Not surprising, therefore, that foreign designers like American Donna Karan, and Japanese Issey Miyake, as well as French Jean Paul Gautier are using Indian fabrics to design some of the choicest garments.
Careercature
Sandeep Joshi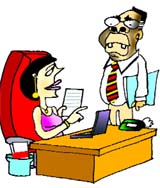 I expected something different when your CV said, "Smart, fair, attractive..."
Career Hotline


Home Work
n Distance no bar
n Healthy Choice
n Be the face of India!


COURSE CHAT
Merging Western & Islamic finance
THE first-ever masters degree in Islamic commerce to be offered at an Australian university has some overseas Indian students excited about future prospects in this fast-growing segment of global finance.

Mouse is mightier?
Computer animation students have designed an online game to help children understand ways they can reduce their impact on climate change.
Of will & skill
It is often said that a bad workman always quarrels with his tools. A tendency to make excuses at workplace harms not only the organisation but the worker as well. But a skillful entrepreneur can check the tendencies of lame excuses among his workers with will and skill. Gandhiji believed that strength doesn't come from physical capacity alone but from an iron will on the part of the worker. Will is one part desire, one part determination, one part decisiveness and one part effort.
Tired of earning, tutor starts free classes
SAYING he is 'tired of earning money', a tutor who prepares students for competitive examinations is now doing the same for poor students - free of cost.
BPO attrition linked to poor salaries


IT'S official now. The business process outsourcing sector doesn't pay well and that is the main reason for the high attrition rate in the sector. According to BPO Special Survey, 2008, remuneration structure of the sector is not as attractive as other industries in the country.
Phew!
THE Indian BPO industry employs around seven lakh people and accounted for revenue of 12.5 billion US dollars for the year ended March 2008. From an attrition rate as high as 50 per cent few years ago, it now hovers around 23 to 25 per cent for most well-run BPO companies. It is likely to stablise for some in the next few years.
Catching them young
Now, IT-BPO firms use youth power for brand-building


ONE may call it a strategy to catch them young as a campus tool, or a bid to reach out to the young minds by providing them with unique opportunities to widen their understanding about IT and BPO companies. Whatever be the reading, IT and BPO companies have started to foster campus-industry relationship in a big way. Companies such as Infosys, Sun Microsystems and Google have their brand ambassadors among industrious pupils in select campuses in India.
Bits & bytes
Scouting for talent
The Institute of Chartered Accountants of India (ICAI) announced the commencement of the National Debate Competition as part of its diamond jubilee celebrations. The programme has been designed to provide students across the country a platform to voice their opinions on issues surrounding the society and also become aware of the economic and educational issues concerning our country in the course of the competition.
MUST READ
Cheers to coffee!
IT is a Monday morning. There are meetings to be attended and new targets waiting to be set, but you are tired and disoriented after a hectic weekend. What you may just need to go back on track is a nice, big cup of good ol' coffee.